OPPORTUNITY: SMIA BOARD CHAIR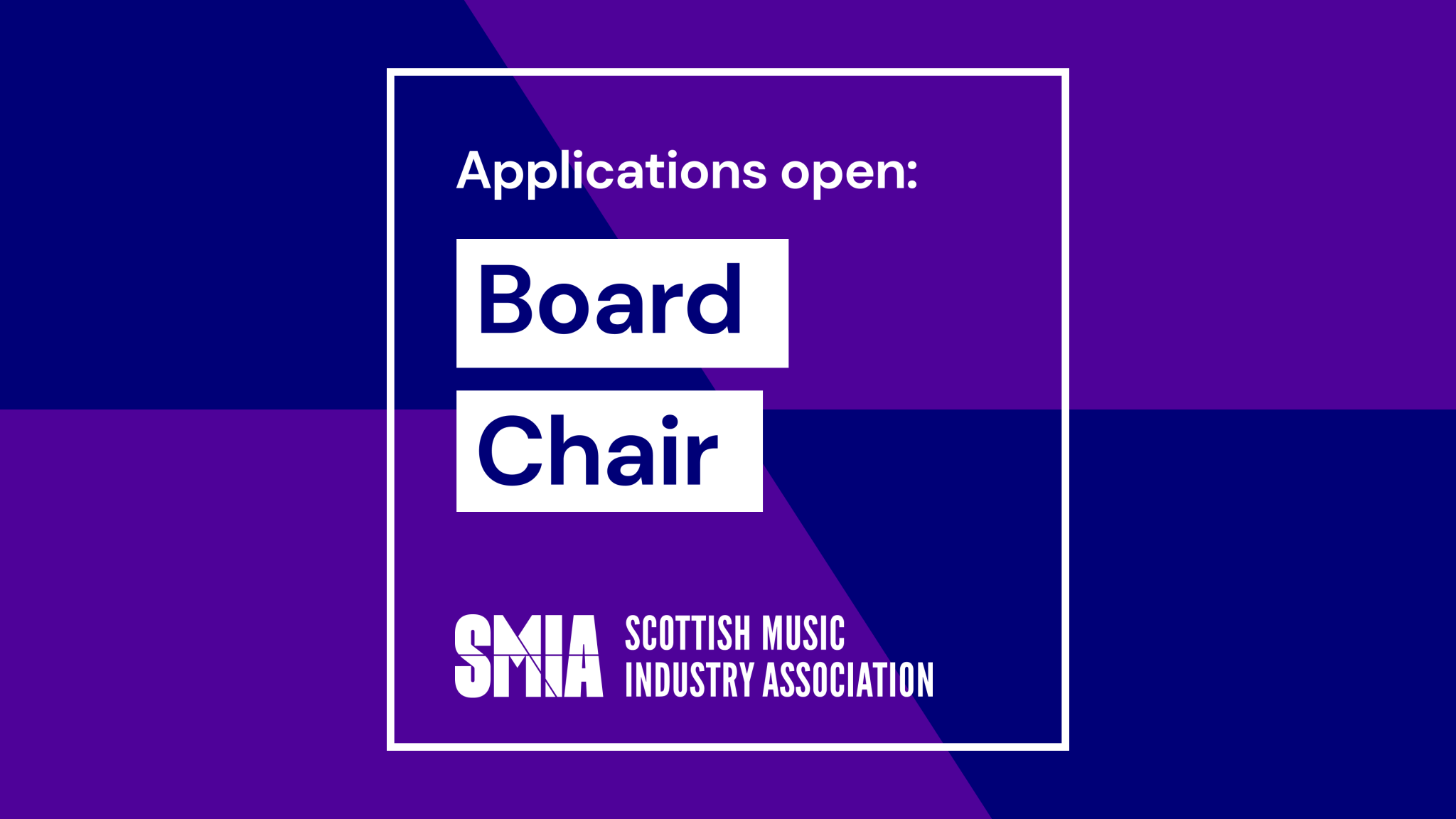 We are seeking an experienced executive with a wide ranging knowledge of the Scottish music industry to chair the Scottish Music Industry Association.
About SMIA
The Scottish Music Industry Association (SMIA) exists to strengthen, empower and unite Scotland's music industry, and increase its value on the world stage: economically, socially and culturally.
Our Mission
Create and nurture a diverse, accessible and inclusive membership community that reflects the full spectrum of Scotland's music industry

Ensure that Scotland's music industry has an effective voice within government, parliament and development organisations that facilitates understanding and awareness of key opportunities and challenges

Produce and support projects and programmes to stimulate sustainability, domestic and international growth, development and innovation 
The SMIA receives Regular Funding from Creative Scotland, the public body that supports the arts, screen and creative industries across all parts of Scotland on behalf of everyone who lives, works or visits.
Creative Scotland distributes funding from the Scottish Government and The National Lottery.
Our Members
The SMIA's membership currently encompasses over 4,000 music practitioners.
We want everyone working in music in Scotland to be an SMIA member. Whatever point you're at in your career, whatever genre of music you work in, and wherever in Scotland you're based; the SMIA exists to support you.
With a sharpened focus on common rather than competing interests, SMIA members believe in the value and power of community and collaboration. Our services, projects, and events are shaped by those we exist to support, and through both regular and effective communication and liaison, together we can drive Scotland's music industry forward for the benefit of all.
Role Description
We are seeking an experienced executive with a wide-ranging knowledge of the Scottish music industry to chair the Scottish Music Industry Association.
Main Duties
To ensure, with the other board members, that SMIA acts in accordance with its Memorandum and Articles of Association

To ensure that the board is effective in its task of setting and implementing the company's direction and strategy, managing the board's activities in support of its objectives

To ensure that act the company's mission, aims and policies are presented effectively to external industry stakeholders

Provide leadership to the board and take responsibility for its composition and development

Ensure proper information is provided for the board, and effectively plan and conduct board meetings

Ensure all directors are involved in the board's work and oversee the induction and development of directors

Ensure he board focuses on its key tasks, assessing and improving its performance

Support the CEO in the setting and delivery of strategy, ensuring the SMIA reflects the needs of its membership, serving them effectively
Skills and Attributes for Success 
A working understanding of the Scottish music industry, understanding the barriers facing the industry and how to address them

The ability to develop new and existing effective relationships across the music and broader creative industries, representing the organisation at the highest levels, alongside a wide network of existing high-level industry contacts who are based in Scotland and further afield

A demonstrable commitment to equal opportunities, diversity, inclusion and accessibility across the music sector

Board-level and/or senior managerial experience with relevant businesses and/or organisations
Equal Opportunities
The SMIA is committed to ensuring equal opportunities in employment. No discrimination will be made throughout the recruitment process based on age, disability, gender reassignment, marriage and civil partnership, pregnancy and maternity, race, religion or belief, sex, gender or socio-economic background.  The SMIA values the understanding that lived experience brings.
Additional Details 
The Chair will be expected to attend

four board meetings per year, with additional input required around key SMIA events such as Scottish Album of the Year Award and the SMIA Summit.  Time is also required to keep abreast of and occasionally lead communications within the board

The Chair can either be based in Scotland or remotely, but is required to attend board meetings in person, as well as key SMIA events in Scotland. A network of industry contacts who are based in Scotland is strongly preferable

Reasonable expenses incurred during the course of business will be reimbursed
How To Apply
If you would like to apply for this position, please email your CV and a cover letter explaining why the SMIA needs you and what you will bring to the company to jobs@smia.org.uk by 5pm on Friday 15th September.
Please also include:
Suggestions for discussion topics for the company board, in regard to the strategic direction of the organisation

Suggestions for discussion topics about the state of the industry, in regard to current challenges and opportunities affecting the music industry in Scotland

Tell us what you value most in business and share a piece of advice you would offer to other people working in music
Timeline
Applications are due by 5pm on Friday 15th September, with initial interviews to be held with a selection of Board members on 22 / 25 / 26 September.
If you require any reasonable adjustments to the application process, please contact jobs@smia.org.uk and one of our team will get back to you.