NEWS: YOUNG FATHERS WIN THE SCOTTISH ALBUM OF THE YEAR AWARD WITH 'HEAVY HEAVY'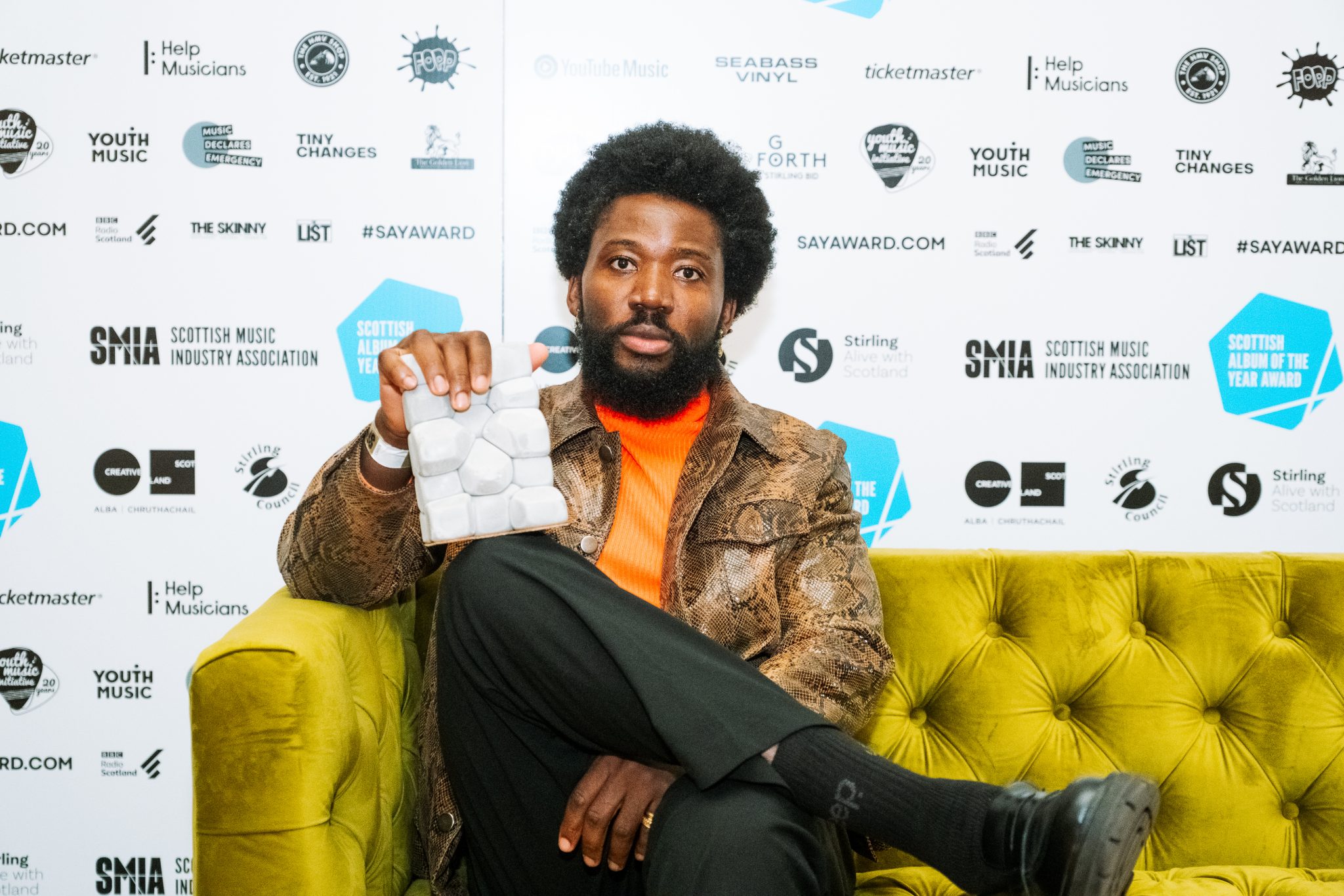 Young Fathers 'Heavy Heavy' was announced as winner of The Scottish Album of the Year (SAY) Award at the prestigious Ceremony in Stirling's Albert Halls this past Thursday 26th October. Young Fathers claimed the title ahead of a Shortlist including Paolo Nutini, Becky Sikasa, Joesef and more, taking home £20,000 and the coveted title of Scottish Album of the Year for the third time. 
Paolo Nutini's debut record 'These Streets' was awarded the Modern Scottish Classic Award, in association with YouTube Music, with the Paisley singer-songwriter's manager and sister taking to the stage to accept the award on Paolo's behalf as he's currently in the USA. No Windows was named The Sound of Young Scotland, winning a £10,000 funding package to create their debut album. Since its inception in 2012, The SAY Award has now distributed over £350,000 in prize money, recognised 240 Longlisted albums and championed Scottish music from legends of the scene to new and emerging artists.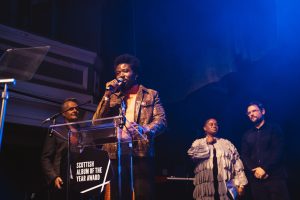 Alloysious Massaquoi, Young Fathers winners of The Scottish Album of the Year Award 2023 said, "Thank you to the judges, and all the nominees and everybody that's turned up tonight – it's a bit radge! The album is called 'Heavy Heavy' for a reason, it's the trials and tribulations of everybody. It's one of those things where we sort of had to start from scratch, it had been 4 or 5 years since we put something out since Cocoa Sugar. For us to get back together and get excited again with each other, all the ideas that everybody else brings – it's great and this is topping off a great year.
"We did two shows at the Barras and I think the Scottish crowd is one of the best – it's always nice to come to these places because it feels very homely! So it's mad, it's topping off a great year for the guys and I. One has responsibilities –  he's got two bairns so he's not allowed out. I want to take a whole bunch of shots but I'm a lightweight so I just want to watch myself! 
"Watching the young folk coming up there – it's inspiring. I don't think the guys and I will ever lose that – we look at stuff right across the board. There's a lot of room for inspiration here and we gain a lot of inspiration right across the board. Thank you to everybody. Thank you, we love you all and appreciate it."
Paolo Nutini, winner of 2023's Modern Scottish Classic Award for 'These Streets' said, "It was nice to hear that 'Last Night In The Bittersweet' was being recognised and that means a lot and hearing the news about 'These Streets' was a surprise to say the least. Mental news that I never expected for a minute!
"All I can say is thank you so much to those who the music means something and for listening to the songs. It's nice to be mentioned in the same breath as these people who I have a lot of respect for.
I really appreciate it and I'm proud to be a part of it all. I'm sorry I couldn't be there on the night to say thanks in person but please know that it means a lot. Thank you."
No Windows, winners of The Sound of Young Scotland Award said, "Thanks so much to The SAY Award for this award. If you couldn't tell, we didn't write anything – it's such an honour to just be here. We were just happy for the day out. Thank you to everyone here. Scotland right now is such an exciting time and place for music and it feels like a complete honour to be a part of that and be part of such an incredible group of musicians."
The biggest night in Scotland's music calendar, The SAY Award Ceremony was held in the heart of Scotland at The Albert Halls in Stirling for the second consecutive year. Hosted by Nicola Meighan and Vic Galloway, the event saw the country's top stars celebrate the very best of Scottish music – past, present and future – in a resounding display of the strength and diversity of Scotland's music industry.
Young Fathers are the first act to win The SAY Award for the third time. Their two previous wins came in 2014 with 'Tape Two' and 2018 with 'Cocoa Sugar'. Young Fathers won the overall final prize from a record-breaking eligible album list of 437, whittled down to a Longlist of 20 and then a Shortlist of 10. 
Listen to The Scottish Album of the Year, 'Heavy Heavy' by Young Fathers here. 
Robert Kilpatrick, our Interim CEO and Creative Director of the Scottish Music Industry Association (SMIA) said, "In 2018, Young Fathers made history by becoming the first artist to win the Scottish Album of the Year Award twice. As the band continued on a meteoric rise; defying definitions with their sound and bringing a level of energy and power that's uniquely theirs, tonight sees them claim Scotland's national music prize for the third time with their strongest and most mesmerising body of work to date.
"Their win signifies the importance of recognising and investing in outstanding Scottish talent, and through the support of The SAY Award (and many other well-deserved accolades), Young Fathers continue to capture the magic and bring it into the lives of music fans worldwide.
"Tonight's win further cements their world-class status, and through doing so, Scotland's global reputation as a country overflowing with outstanding and idiosyncratic creative talent. They're a band we can be proud of, a band we can be inspired by and a band who, quite simply, keep astounding, delighting and enthralling us.
"This year's Ceremony also saw us shine a spotlight on Scottish music's bright future and rich past, with dream-pop Edinburgh duo No Windows winning the Sound of Young Scotland Award and now set to make their debut record. Paolo Nutini's iconic 2006 debut 'These Streets' was also recognised as 2023's Modern Scottish Classic Award winner; celebrated through a specially curated performance featuring some of this year's SAY Award Nominees who chose it as the winner.
"Past, present and future, Scottish music is the stories and soundtrack of our lives. The SMIA is proud of its ongoing commitment to strengthen, empower and unite Scotland's music industry, and The SAY Award once again highlights the cultural impact and contribution of outstanding Scottish music."
Head of Music at Creative Scotland, Alan Morrison, said, "Young Fathers' stunning SAY Award hattrick crowns a magnificent year that saw the Edinburgh trio reach the UK Top Ten Album Chart for the first time and deliver the summer's most talked-about set at Glastonbury. One of the foundation stones of this success was Creative Scotland's funding of Heavy Heavy's recording costs, proof that public funding keeps artistic excellence and cultural diversity at the forefront of Scotland's boundless music scene. Congratulations too to No Windows whose edgy but ethereal dream-pop puts the future of our music in adventurous hands."
Stirling Council leader, Cllr Chris Kane said, "Congratulations to all three winners, including the well-deserved 2023 Scottish Album of the Year recipient: Young Fathers, No Windows as The Sound of Young Scotland and Paolo Nutini's 'These Streets' as the Modern Scottish Classic.
"Stirling's historic Albert Halls was the perfect stage for this special event, welcoming artists and fans for a great evening's entertainment.  
"Our award winning Tolbooth theatre, well known and used by many of the Shortlisted artists, will also host an exhibition by local designer Stuart Blackman on the back of his commission to create the trophies.  
"Thanks to everyone involved in making The 2023 SAY Award such a success and reaffirming Stirling's reputation as a cultural hub and major events destination."
Music fans, artists and industry flocked to Stirling city centre to enjoy a stellar line-up of performances before the winner was revealed.  The Ceremony opened with 2022 SAY Award winner Fergus McCreadie who returned to the venue for the first time since winning, and closed with an epic live set from electronic DJ and producer TAAHLIAH. The audience enjoyed an electric performance from one of Scotland's most exciting rising talents Dead Pony, to mark 10 years of PRS Foundation's PPL Momentum Music Fund, before it was time for a special set celebrating the Modern Scottish Classic Award winner, Paolo Nutini's 'These Streets'. Guest vocalists Becky Sikasa, Shortlisted for this year's SAY Award, and Brownbear, Longlisted this year, took to the stage with The SAY Award house band (led by former SAY nominee Joe Rattray of Admiral Fallow) to perform hits including 'Jenny Don't Be Hasty', 'These Streets', 'Last Request' and 'New Shoes'. 
Each Shortlisted album was celebrated on the night with acts including Joesef, Bemz, Andrew Wasylyk and more collecting their awards onstage and recognising the incredible talent on offer from this year's list. The nine runners-up received £1,000 as well as statuesque concrete totems, created via The SAY Award Design Commission by local Stirling artist Brutal Concrete Workshop. Winners of each prize, The SAY Award, Modern Scottish Classic Award and Sound of Young Scotland Award, took home beautifully unique concrete and terrazzo bowls. Highlighting the enduring links between music, art and design in Scotland, The SAY Award Design Commission worked with Brutal Concrete Workshop to use low-carbon concrete and sustainable methods to create a lasting award commemorating 2023's artists. 
The SAY Award Shortlist for 2023 in alphabetical order was: 
Andrew Wasylyk Hearing the Water before Seeing the Falls
Becky Sikasa Twelve Wooden Boxes
Brìghde Chaimbeul Carry Them With Us
Brooke Combe Black Is the New Gold
Paolo Nutini Last Night In The Bittersweet
A panel of esteemed experts from across the UK's creative industries gathered to debate 2023's Shortlist and choose this year's winner. Chaired by Arusa Qureshi, the judging panel was: Adem Holness (Head of Contemporary Music, Southbank Centre), Andrea Gibb (Screenwriter), Ariel Cohen (Strategic Partner Manager, Artist Development, YouTube Music), Becci Scotcher (Senior Grants and Programmes Manager, PRS Foundation), Charles Jeffrey (Fashion Designer), Gordon Smart (Broadcaster), John Rostron (CEO, Association of Independent Festivals), Katie Goh (Writer and Editor), Laura Boyd (Entertainment Reporter and Presenter), Pete Sparkes (Artistic Director, Drake Music Scotland), Titania Altius (Head of Member Services, PPL).  
The Modern Scottish Classic Award (in association with YouTube Music) is an annual recognition of an iconic album from Scotland's past that still inspires today, with 'These Streets' selected as the winner by 2023's Longlist. The Paisley singer-songwriter was also part of this year's Shortlist with his latest album 'Last Night in the Bittersweet', showcasing a career spanning over 17 years which continues to inspire new and established artists alike. 
Recognised for both his debut and latest record, Paolo Nutini is one of the UK's most talented songwriters and beloved artists and his Modern Scottish Classic Award was celebrated on the night before enjoying a four song set of tracks from 'These Streets'. 
The Sound of Young Scotland Award (supported by Help Musicians, Youth Music Initiative and Youth Music) winner was revealed on the night with No Windows chosen by a panel of 11 former SAY Award nominees. With the award aimed at providing key financial support to young and emerging artists to enable the creation of their debut album, No Windows receives a £10,000 funding package including cash grants, in-kind use of The Old Tolbooth's recording studio in Stirling, business advice sessions with Help Musicians and up to 500 vinyl pressings from Seabass Vinyl, Scotland's first vinyl pressing plant. No Windows  was chosen as this year's winner from a line-up of five finalists: Danny Cliff, Pearling, Pippa Blundell, and Queen of Harps. 
David and Dominique Harvey from Seabass Vinyl said, "Congratulations to No Windows on winning The Sound of Young Scotland Award. What fantastic recognition! We can't wait to work with No Windows in the next coming months, and we hope you'll visit us whilst your record is being manufactured in our plant! Supporting new artists and being involved in the Scottish music infrastructure are some of the key reasons why we started this family-run pressing plant based in East Lothian, and we're very proud to be part of this initiative."
The SAY Award once again joined forces with Scotland's national children's and young people's mental health charity, Tiny Changes, set up in memory of Frightened Rabbit frontman Scott Hutchison to help young minds feel better. 
The SAY Award is a Scottish Music Industry Association (SMIA) production and has distributed over £350,000 in prize money to Scottish artists since its inception in 2012.  The SAY Award 2023 is delivered in partnership with Creative Scotland, Stirling Council, Stirling Alive with Culture, YouTube Music, Seabass Vinyl, Ticketmaster, Help Musicians, HMV, FOPP, PPL, Spotify, Go Forth Stirling, Youth Music Initiative, Youth Music, Music Declares Emergency and The Golden Lion Hotel. 
Now in its twelfth year, previous winners of The SAY Award are: Fergus McCreadie 'Forest Floor' (2022), Mogwai 'As The Love Continues' (2021), Nova 'Re-Up' (2020), Auntie Flo 'Radio Highlife' (2019), Young Fathers 'Cocoa Sugar' (2018), Sacred Paws 'Strike A Match' (2017), Anna Meredith 'Varmints' (2016), Kathryn Joseph 'Bones You Have Thrown Me And Blood I've Spilled' (2015), Young Fathers 'Tape Two' (2014), RM Hubbert 'Thirteen Lost & Found' (2013) and the inaugural winner Bill Wells and Aidan Moffat 'Everything's Getting Older' (2012).
Now in its third year, previous winners of the Modern Scottish Classic Award are: Cocteau Twins 'Heaven or Las Vegas' (2022) and Frightened Rabbit 'The Midnight Organ Fight' (2021). 
Also in its third year, previous winners of The Sound of Young Scotland Award are: Berta Kennedy (2022) and LVRA (2021).