SMIA Members Spotlight: Rosie Bans (Artist and SWIM Team Leader)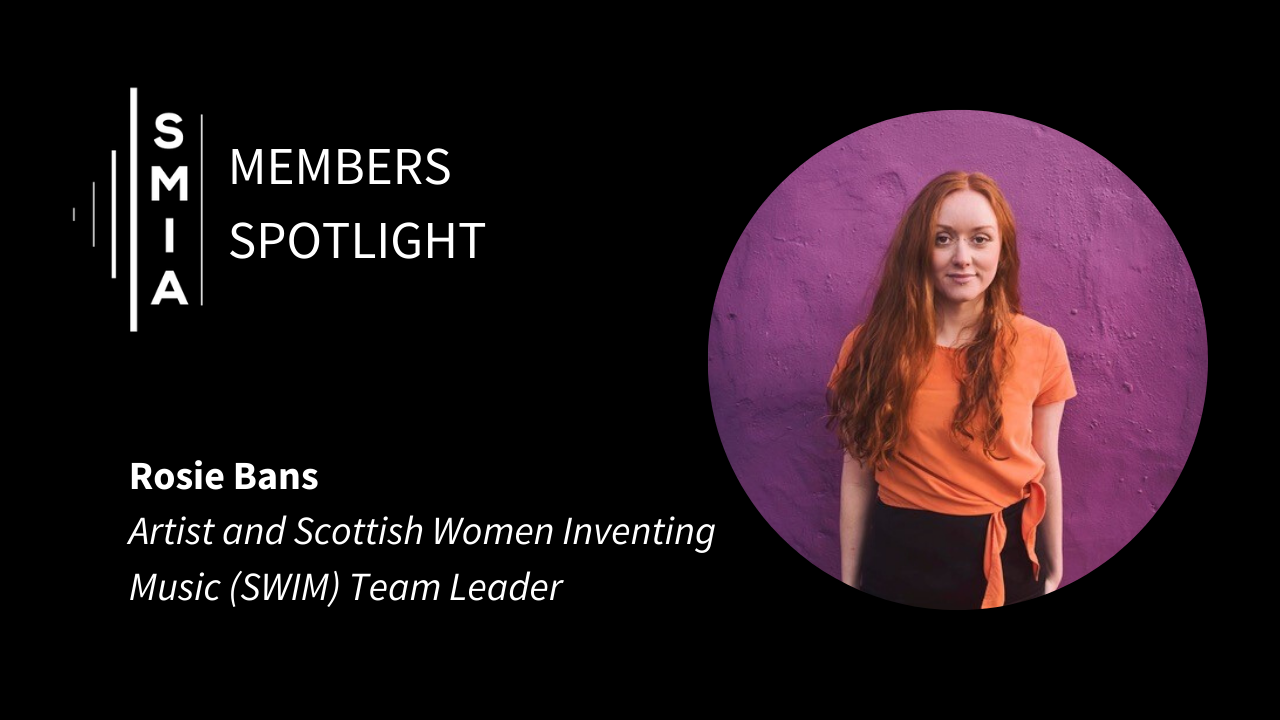 Tell us a bit about you and what you do…
Hello!  I am a songwriter, vocalist, music tutor and keys player based in Glasgow.  I also work closely with Scottish Women Inventing Music (SWIM), a charity set up to address the gender imbalance in the industry.
2. How long have you been working in the music industry?
I left high school at the tender age of 16 to go to college and study music.  So I have been either studying or working in the industry in some capacity since then!
3. What do you enjoy most about what you do?
Throughout the years my answer to that question has changed. When I was young I loved performing, belting out my tunes on a stage in front of people and having the best time doing it.  Now, as a woman in my 30's, it's the chance to live a fulfilled and creative life that I enjoy most.  Being able to explore the world around me through music and collaboration and seeing how my music can impact people.  That's an amazing feeling and seems incredibly worthwhile to me. 
4. Who are some of the people you've worked with?
Last summer I was on the bill at the Flying Moon Music and Arts Festival in Glasgow, put together by powerhouse promoter Nicole Stapinski, a good friend and genuine lover of all things music.  My debut album 'Identify Yourself' featured lot's of incredible musicians including bass player Douglas Kemp, Sitar player Paul Wight and Guitarists Ben MacDonald and Frazer Knox.   From week to week I work with amazing women at SWIM including Halina Rifai, Sharon Stephen, Hilary Brooks (and many more!).  And I'd also like to mention another amazing group of musicians I am part of at Female Musicians Scotland, organised by the brilliant Melisa Kelly.  I have also worked very closely with The Dream Machine, and the East End Free Festival based near The Barras at The Space.  The team there headed up by Matt Luygate are brilliant and so dedicated to keeping music available and accessible to everyone.  And lastly, 2019 was my year of 'retreating'.  I took myself on 5 songwriting retreat weeks and worked with some really fine Scottish writers and musicians including Becci Wallace, Jigsawtiger, Fenris, Catherine Rudie and Lorna Reid. 
5. Where do you see you/your organisation in the next five years?
In terms of my own music career I am currently working on my second album, so in 5 years I would like to have had my second AND third full album release.  Throughout the years I have toured Europe multiple times, I hope within the next five years that is still an option for me, touring the continent is absolutely amazing and a total joy to be able to do.  Within the next five years I hope to have found myself becoming a truly creative spirit, really honing in on my creative work and achieving real balance in my life with my creative practise and all the other work that needs done to maintain a career.  Happy.
6. What's coming up for you and SWIM?
At the moment we
are responding to the current health crisis.
Our members take in a wide variety of jobs and occupations within the
music industry so we are looking at how we can support them through this
unusual and pretty difficult time. We
have a really excellent board who are all at the top of their game in the music
industry so we are currently looking at how we can allow our members to access
information from them through the video platform Zoom.
Once things go back to normal, which they will, then the charity will continue with their work around Girl Pool: a music club for 12 – 17 year old girls, educating them in all aspect of the music industry; our monthly meet ups which take place on the last week of each month, informal events set up as a place to connect, network and chat to SWIM about anything you like (whilst meeting new friends and having some much needed socialising time!); and our overarching work of spreading the word about the charity and letting members know they have an organisation that is here for them, dedicated to creating a fairer world.
7. What's the best thing about working in music in Scotland?
The attitude.  After working in music in London for 5 years and then in Berlin for one year, coming back to Scotland was like a breath of fresh air.  The music industry here is professional but with a real personal feel.  I haven't felt that anywhere else.  In other cities, I have rubbed shoulders with record bosses and promoters who have asked me about my age and 'look' before actually saying hello.  I understand this is my own experience but I have never felt that here in Glasgow, the attitude here is welcoming and supportive and people are usually really happy to help you out if you have any questions or need any advice.  Also, now with SWIM on the Scottish music landscape, there is a growing community of women ready to assist and support each other.
8. What do you feel Scotland's music industry needs to excel?
I think in Scotland
we still look to London (and the US) for greater opportunity and career growth,
which unfortunately means we lose a lot of our artists. Scotland is an amazing country to live in but
when artists get to a high level in their career it doesn't seem to be able
to cater for them. I think we need to
see offices and studios of major labels setting up here, nurturing and growing
the talent we have and allowing the Scottish artists to still live and work in
Scotland whilst doing so and not having to move to London or LA.
That, alongside more public money and arts support.  Other European countries offer relatively robust financial backing for those working within the the arts.  If Scotland was to think about the fastest growing sector of the economy in the same way we would not only allow the population to create amazing art but also keep those artists in a job and lifestyle which they need to continue their necessary work in our society.  Of course, for Scotland to make those decisions (and for us to vote for them) would mean Westminster granting full fiscal powers to Scotland, which is a different conversation for a different day…