SMIA Members Spotlight: Nicole Stapinski (Moonstruck On Clydeside)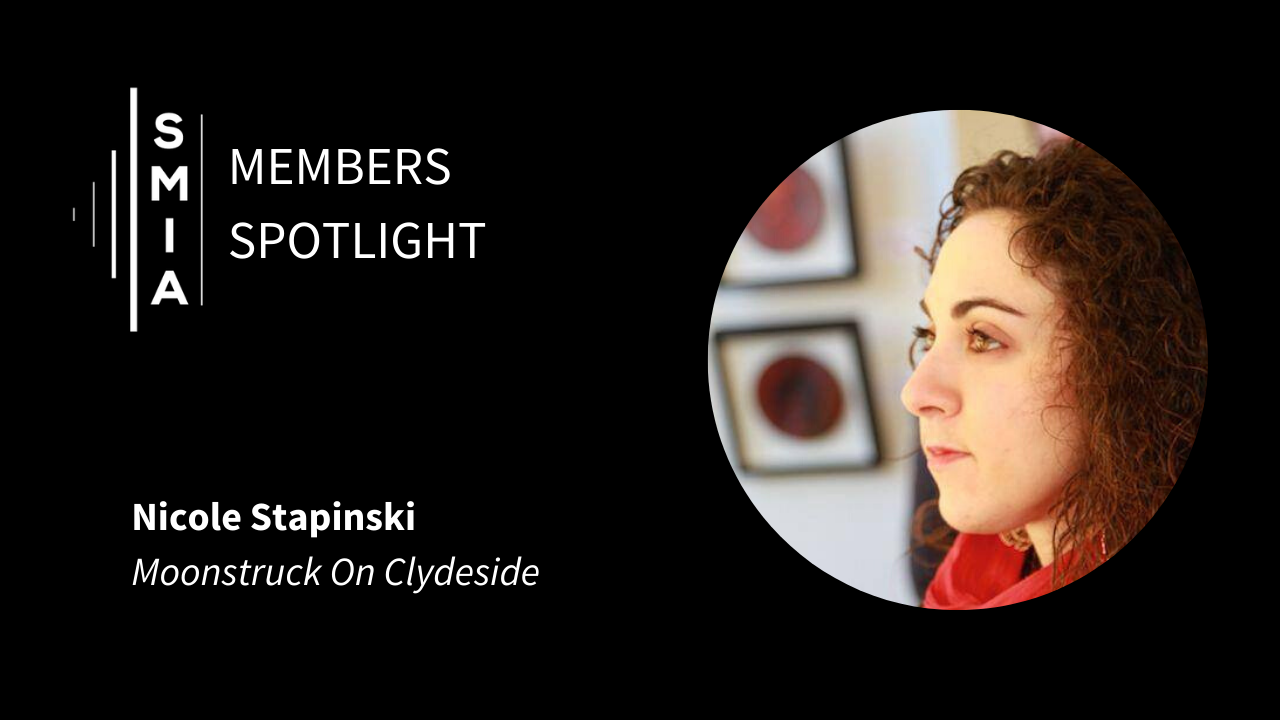 Tell us a bit about you and what you do…
Hello hello! My name's Nicole Stapinski and I'm the founder / director of Moonstruck on Clydeside — a non-profit, independent promotions start-up with roots in Glasgow and New York (where I hail from). If you know your pop culture references… the hint's in the title! I followed my blind love for Scottish music from the East Coast to the Clyde Valley.
At its heart, Moonstruck runs affordable gigs for the public. I am an independent artist working for independent artists. Our gig set up bins the common 'pay-to-play' scheme in favour of paying artists a fair flat fee and promoting them as they deserve.
Along these same lines, Moonstruck is (and also began) as a consultancy service for independents in 2017. I offer press kit building, photography and video branding, and short promotional campaigns at affordable rates that suit start-up budgets. When you're just getting going, the industry can often feel like treacherous, murky waters! Sharks included. So I aim to offer the artists that choose to work with me an approachable support system that provides honest gig deals and the tools to promote themselves without fear of judgement from the music industry.
I launched the business model onto the music market with Flying Moon Music & Arts Festival in 2018. Flying Moon in itself is a femme-focused festival that makes an effort to promote well-thought-out rosters, introducing new artists alongside some of the independent scene's more seasoned players.
So not only does it provide ethical promotion for hard-working music makers, Moonstruck also has a strong desire to draw an even playing field within the wider gender balance conversation too. It is a proud associate of the Keychange campaign — the pioneering European initiative which empowers women to transform the future of the music industry and encourages festivals/businesses of all sizes to sign up to a 50:50 gender balance. For me, balance became normal a long time ago, and it bleeds into every aspect of my programming.
2. How long have you been working in the music industry?
The concept of Moonstruck was established in early 2017, so I've been actively trying to build its brand for three years. I guess you could say that's when I made my 'industry debut'. Or at least, that's when I started actively putting my skills to the front lines. Prior to that, I'd sought out any front-of-house opportunity I could find, digging behind the scenes when I could, and training up in tech and events management with Queen Margaret Union at Glasgow University. That's been more than half of my last decade.
I've joined my fair share of collectives over the years too. Namely the hugely loved TYCI, Female Musicians Scotland, and Scottish Women Inventing Music (SWIM). All of the women involved in these collectives have provided a massive source of inspiration for me over the years. I studied independent industry craft simply by watching and observing them. Yes, bizarrely I didn't go to uni for any of this. I actually have a degree in History of Art!
When I wasn't joining collectives, I was busy being a musician too. Playing festivals, or working at them, became a summertime norm. I somehow even managed to bring my band Flying Penguins all the way to Italy in 2015, and to New York in 2017 for a short tour. All on a crazy shoestring budget.
So Moonstruck may only be three years old, but the graft behind it has been going on since 2011, when I moved to Glasgow to study. Just goes to show, if you stick it out long enough you'll get the gears grinding.
3. What do you enjoy most about what you do?
I just love meeting new musicians and keeping my finger on the pulse. But I also really love waving them in someone else's face until they stop and go, 'HOLY… They're FANTASTIC'. But truthfully, being genuine and transparent about Moonstruck's setup and intention has also built a wonderful sense of community too. It's why I do what I do. To connect to others meaningfully, and pull out the underdogs in the process. There's no gate-keeping in my camp.
4. Who are some of the people you've worked with?
Flying Moon Festival 2019 was a real game changer for Moonstruck. It's one of my favourite gigs I've programmed to date, and I got to work with a whole bag of brilliant independent artists including Carla J Easton, Half Formed Things, GRAVELLE, Tamzene, Heir of the Cursed, Scarlett Randle, Super Inuit, Lemon Drink, Bratakus, Rosie Bans, a supernova of a guest from Ireland named Amy Montgomery, and an excellent new trio called Las Mitras. In 2018, our festival headliners featured CRYSTAL, Annie Booth, Iona Fyfe, Zoë Bestel and Megan Airlie.
I've also done a good bit of PR / press kit work for people like Emma Gillespie, Ophelia Lies, Curdle and Calum Ingram in the last year. I'm currently building a small campaign for a new band called Pot Nudos. This momentary piecework really helps build the momentum and fuels the events I organise. It keeps my mind fresh, looking outward and switched on.
It's how I found a brilliant 5-piece grrrl band from Leeds called VENUS. Moonstruck hosted their first-ever Glasgow show last November, with support from FAUNA and Tongue Trap — and we had our first ever wee moshpit! I was so chuffed!
5. Where do you see you/your organisation in the next five years?
I'd love to keep it grounded, but keep it going. I want to make our rosters more intersectional. For example, I have no intention of making Flying Moon Festival a field-filler or the sweaty dustbowl that most festivals conjure images of in your head. Moonstruck is a small entity, often run by just myself, or with a very tiny group of creatives I trust. In some respects, it's meant to stay that way. Because without its homegrown ethics, it'll become less about supporting the indies and more about the cash.
6. What's coming up for MOC?
Moonstruck functions as a non-profit at the end of the day, which means whatever money goes into the project goes right back out to the artists and creatives involved. And often, the real graft comes out of my own pocket. With that in mind, the new decade has really made me think about what direction to take things in.
This year will involve taking the time to build a brighter business model and apply for funding that better supports our non-profit structure. Keeping the affordable gigs affordable, and the PR and promotions services approachable for indies. It would be brilliant to start crafting a smart reliable team of like-minded people at the helm too, once this new model is in place.
7. What's the best thing about working in music in Scotland?

There's something weirdly appealing about the deluge of artists and musicians spilling out in droves from every nook, cranny and genre. And they're not just coming out of Glasgow. Heck no. They come from every tiny town in the country. That inclusivity made a new girl feel more at ease in navigating the Scottish music industry — where effectively everybody knows your name.
In comparison to the ocean of the New York metropolitan area, Scotland felt friendly, approachable and… most importantly? Like an egg I could crack. The buzz around it is a bit addictive really. It's the one place on earth to have nurtured my creativity in the right way so far. And when the city grind gets too much? I can just slap on some earbuds and go for a walk / recharge in the hills! Scotland, creatively and literally, has such a fantastic landscape for fostering inspiration.
8. What do you feel Scotland's music industry needs to excel?
It's done well for itself so far I'd say, hah! Though what I find less available, is not so much a range of good people and services, they're all out there waiting to be found. But more a need to support mental health and encourage funding applications at a grassroots level. That's not to say these things don't already exist in some form, they do. But to an independent artist just starting out, or a small business like Moonstruck, the first step in asking for help is daunting. It would be brilliant if we could build these existing services up to support those less aware of them, with more staff at the ground level keeping that arm extended, palm up. That innate approachability — that outreach, is Scotland at its best.
Follow Moonstruck on Clydeside on Facebook / Twitter / Instagram