SMIA Members Spotlight: Jonathan Rimmer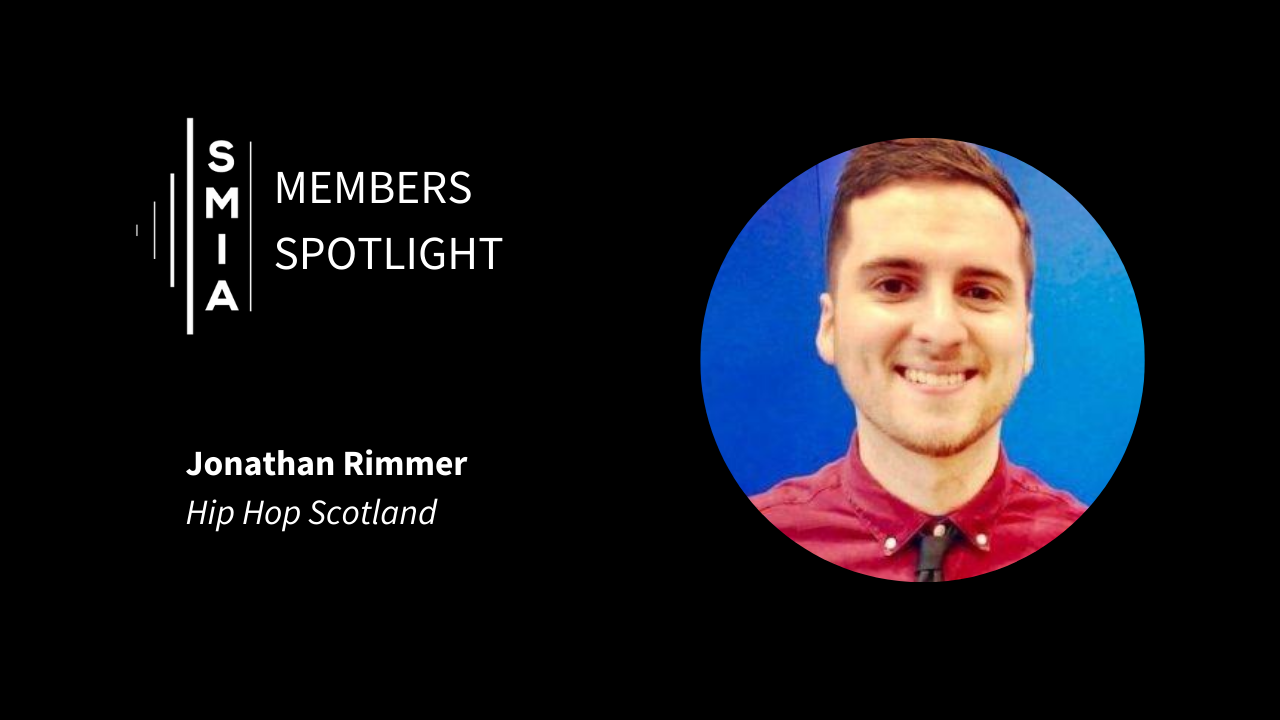 Tell us a bit about you and what you do…
For my day job, I currently work in BBC politics. But I also blog about music in my spare time. I recently set up Hip Hop Scotland, a new long-form blog and have started recruiting new writers for a proper relaunch.
2. How long have you been working in the music industry?
Prior to my current job, I worked part time as a freelance music journalist from about 2010 onwards. In particular, I specialised covering Scottish hip hop for various publications and helped run a long-running blog called Scotland Stand Up from about 2013. We wound down the site last year and set up Hip Hop Scotland, which I hope we can properly get off the ground in the coming weeks.
3. What do you enjoy most about what you do?

Hearing great new music is the most obvious answer. Scottish hip hop is a bit niche, but there's a lot of untapped talent there that I'm passionate about promoting where I can. It's a scene that tends to be overlooked in Scotland because it's an unapologetically working class culture where authenticity is paramount. Rappers use their own accents and artists tend to be very DIY. The lack of media presence means I've felt strongly about giving voice to up-and-coming artists where I can. So, filling that void a wee bit is what I feel most strongly about, although having less time to do so these days due to work means I'd love to see more journalists and bloggers taking an interest in the scene. 
4. Who are some of the people you've worked with? 
In terms of Scottish hip hop specifically, I've contributed to the likes of Vice, The Skinny, Clash and a few national newspapers. I helped launch the National newspaper's music section a few years ago as well, which I probably filled with more hip hop coverage than some perhaps felt was merited! I also created two video shorts series – Fresh Cuts and Living Hip Hop – for BBC Scotland channel The Social. In 2017, I published a one-off mag called Urban Scot, which included published features on music, graff, breaking and beatboxing. That kind of doubled up on a Uni project I was doing at the time so I was cheating a wee bit.
In terms of individuals, I've worked a lot with Steven 'Scuba' Duncan over the years. He set up the initial Scotland Stand Up blog and we used to run podcasts together. Hannah Westwater, Stephen Butchard and Leo 'Makar' Zawadkzi are other writers I've worked with. Loki, Respek BA, Werd, Solareye, Mistah Bohze, Steg G, Silvertongue, Soul and Big Div are among the Scottish Hip hop legends we've interviewed or launched projects with over the years.
5. Where do you see you/your organisation in the next five years?

The first job is to get it up and running as a blog again with reviews and features, first and foremost. Life and jobs meant we all kind of dipped out a bit because it's a labour of love. But in the long run, I'd still love to get enough folk on board to make it a proper resource that can be used by artists and practitioners across the different elements of hip hop, be they emcees, producers, beatboxers, graffiti artists or breakdancers.
6. What's coming up for Hip Hop Scotland?
I'm hoping to cover a couple of events in the Autumn. One of our guys is hoping to do the first proper video feature on the new site with a collective who've been producing some amazing stuff over the past year or two. We have a new writer reviewing new projects and another who's speaking to the legendary Steg G about a new hip hop course he's running. 
7. What's the best thing about working in music in Scotland?
It's not something I really derive my income from anymore, but I find the grassroots is full of examples of cooperative action. Even bigger Scottish artists know they're often wee fish in a much larger ecosystem so tend to be supportive where they can. There are countless nights around the country across multiple genres and styles run by people doing what they do, not for profit but because they love music and what it contributes to our society. 
8. What do you feel Scotland's music industry needs to excel?
I'd love to see more of a national conversation on what music and art means and what value we place on it. Artists are paid a pittance in terms of streaming and the financial model of the industry has dramatically changed over time. If we want grassroots scenes and cultures to survive and thrive – and I absolute include hip hop in that – then we need to think about real investment from the top in community projects. By that, I don't mean interference or parachuting in "music support workers" or anything patronising like that! I'm thinking more of things like Sunny Govan Radio, which is led by local artists and DJs. They do courses, seek to train up local people with music and broadcast qualifications, and only are able to sustain themselves due to grants, donations and wider support. Collaborative grassroots resources like that are more important for community regeneration than just pumping in billions to a big new venue every few years. I'm not enough of an expert on how Creative Scotland funding applications work or what the mechanisms are for what qualifies for support, but perhaps there needs to be greater effort made in going to working class resources directly and offering support rather than just waiting for projects to just emerge out of the blue.