Moving Forward: Approaches to managing Brexit for the Scottish music industry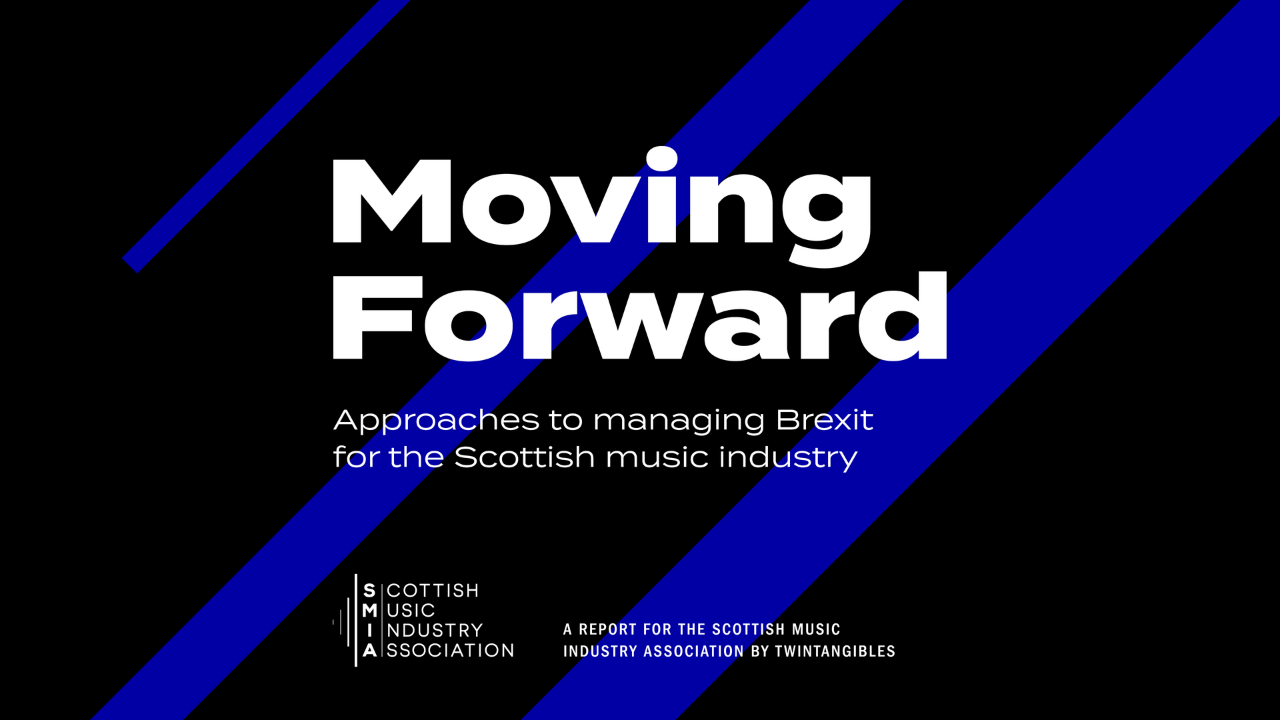 The Scottish Music Industry Association (SMIA) today (11 March) unveils it's 'Moving Forward: Approaches to managing Brexit for the Scottish music industry' report; published following the end of the Brexit transition period on 31 December 2020 and the signing of the EU-UK Trade and Co-operation Agreement.
Supported by Scottish Enterprise's 'Brexit Support Grant', the SMIA commissioned Glasgow-based management consultancy firm Twintangibles to conduct the research across 2020 and early into the new year.
The report takes a pragmatic approach in identifying both the impact of Brexit on Scotland's music industry as well exploring mitigation measures, pivot possibilities and potential ways the sector can innovate to stimulate opportunity as it moves forward under the new political arrangement. It was not possible to consider the impact of Brexit without factoring the disruption caused by, and potentially enduring impact of, the Covid-19 outbreak. As such, the research project has by intent and by necessity included this consideration into its work.
Engagement with industry practitioners saw a range of commonly acknowledged sector challenges identified, including a dependence on the European market for generating revenue streams, employment and freedom to work across the EU, travel, supply lines, IP and data protection, tax and tariffs, broadcasting rights and access to funding.
From identifying the key challenges, approaches to moving forward – either through mitigation measures, pivot possibilities or innovating to identify new opportunities – are presented in the report in conceptual form. Each approach is illustrated by an indicative 'Use Case', intended to represent one way the broader approach might be exploited by Scotland's music industry to stimulate opportunity.
Approaches to managing Brexit outlined in the report include:
Corridor Touring
Local Manufacture
Funding
Development of Local Talent
Greater Use of Live Streaming
Lobbying and Trade Missions
More Equitable Music Streaming
Broadcasting Presence
Immersive Concerts
Visa Services
Equipment Facilitation
Unveiling the report, Dougal Perman, Chair of the Scottish Music Industry Association (SMIA), said: "The Scottish music industry is full of creative, entrepreneurial people. The industry is well aware of the impacts and challenges posed by Brexit. In order to move forward, we need to be positive and progressive. By adopting an innovative mindset, working together and focusing efforts we can find solutions to our problems and identify and exploit new opportunities. We want this report to stimulate new thinking, fresh ideas and highlight ways for us to move forward."
Jason Edwards, Executive Director of the Scottish Music Industry Association (SMIA), added: "In the short term, we are focusing our efforts on providing and generating resources to help the Scottish music industry navigate the many impacts of Brexit. But as we work with the industry to mitigate these impacts and recover from the pandemic, there is an important and rare opportunity for us to collaborate as a sector, and develop and discuss new approaches to the business, that we believe could strengthen Scotland's influence and importance within the global music industry."