SMIA Members Spotlight: Kirstin McEwan (Dumfries Music Conference)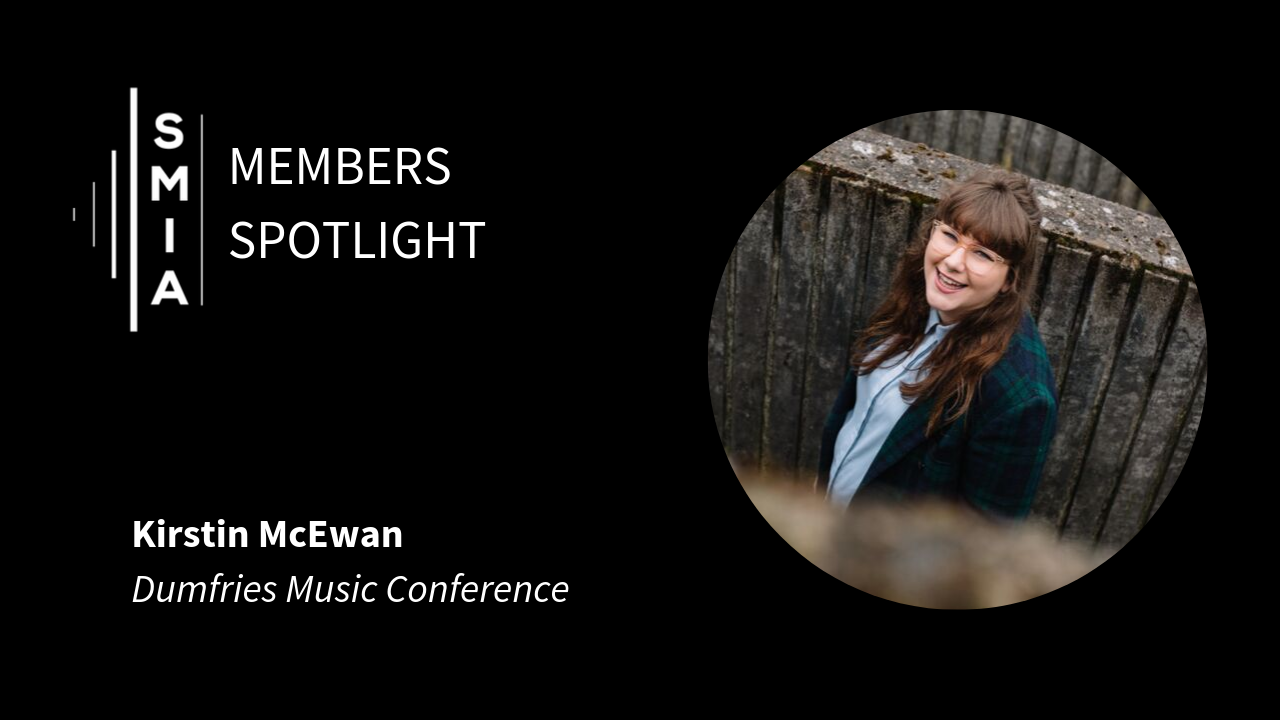 Tell us a bit about you and what you do…
I am one of the core team members behind Dumfries Music Conference (DMC), working as the Marketing Manager. My role involves content creation, social media, management of our website and maintaining communications with partner organisations and the press. I also work as a photographer and cover all DMC events, documenting live gigs, discussions, art and workshops to tell the story of DMC.
Earlier this year, I was also the producer and production manager of 'The Female Takeover' –  a month-long project which hosted a series of events, workshops, live gigs, panel discussions and cinema celebrating the role of women in the music industry. I am a passionate advocate for levelling the playing field between men and women within a fluctuating and diverse industry, and using my day-to-day role in digital marketing in a creative way to ignite discussions around important topics within music.
2. How long have you been working in the music industry?
A little over two years I joined the DMC team after we received funding to extend our annual three-day conference to a year-long programme. My background is in digital media marketing and PR, so I was hired to promote the 12-month programme of events across social platforms and build up our presence in the media. Prior to that, I was involved in documenting various gigs and local music events throughout the region and working with bands to create promotional content for social media and press.
3. What do you enjoy most about what you do?
My favourite part of the conference is
the live music – both the organisation of it and the actual gigs themselves.
It's always a really exciting time when it comes to organising our annual showcase
gig (which is the big finale to our conference). These is always a mix of local
and national acts. We try not to limit ourselves to genres either and love
having a line-up of all different styles of music. It's lovely being able to
offer this type of platform to a fresh local band, as well as bringing a
national act to the town and showcasing new music. My role in social media is great
for connecting with new bands and artists; I've discovered a huge amount of
incredible Scottish musicians through Instagram and always have a huge list of
acts I'd love to see play in Dumfries – we're never short of choices.
The live gigs themselves are always so much fun. Although there is a huge amount of work put into them, it's brilliant to see everyone come together to enjoy live music. I absolutely love shooting gigs too – there's really nothing quite like being able to capture the energy and passion of a band on stage.
4. Who are some of the people you've worked with?
I've worked with such a wide range of
people during my time with DMC, especially during The Female Takeover Month. I
loved connecting with women working in the music industry in Scotland and
highlighting the important work they do. I am a huge fan of Scottish Women
Inventing Music (SWIM) and it was great to host a panel with them in Dumfries
this year. I am inspired by their passion and dedication to educate, inspire
and empower women through their work, whilst engaging people in what is an
extremely important conversation about supporting gender equality in music.
DMC has also worked with Tinderbox Orchestra several times over the last few years and it has been a big highlight for all of us. In 2016, we worked with Tinderbox on 'The Big Jam' – a project which offered local musicians a unique opportunity to learn from and play with the Tinderbox Collective, which culminated in a live performance at the Hidden Door Festival in Edinburgh. Three local musicians under 20 years old played in front of hundreds of people with a massive orchestra and it was really special to play a part in it all.
5. Where do you see you/your organisation in the next five years?
We are just about to embark on a big
project called 'The Plaza' which aims to take underused or abandoned spaces and
create live music venues. DMC has always tried to nurture local music across a
broad spectrum through gigs at The Stove Network, but now moving into our
seventh year, we want to celebrate the spaces out-with our headquarters and
challenge the notions of where music ought to live. Through this project, we
hope to be able to support and develop careers in all aspects of music – photography,
film, event management and programming – whilst inviting artists and the music
community to contribute to creating a new space for live music.
On a personal level, I would love to focus on offering opportunities to younger people who are interested in progressing a career within the music industry. DMC offers four mentoring opportunities to people (under 25) each year to learn the ins and outs of event curation, social media and audio engineering. I would love to see this initiative grow and develop into a bigger education programme. With more and more cuts in music tuition happening in schools across Scotland, it's vitally important to be able to offer these opportunities to young people to allow them to express themselves through playing music and explore the possibilities of forging a career in the music industry.
6. What's coming up at this year's Dumfries Music Conference?
Next month will see our biggest
conference yet – for the last six years, the majority of our events have
happened within our base at The Stove Network on Dumfries High Street, but this
year the conference will be expanding across four venues throughout the town. We've
got a really exciting line-up of panels on the Saturday and I'm looking forward
to introducing our local network of musicians and performers to a whole host of
experts working across the music industry in Scotland. New for this year, we
have the Musicians Market which is taking place at The Oven on the High Street,
hosting stalls from a wide range of Scottish music organisations, a record fair
and local DJs playing all day.
I'm particularly looking forward to having the wonderful (and previous SAY Award Winner!) Kathryn Joseph in Dumfries to play her first headline show in the region. We've all been so excited about it and the response so far has been incredible. It's really lovely to be able to bring such an amazing musician like Kathryn to the town and offer so many people the chance to see her perform in such an intimate venue. I really can't wait!
7. What's the best thing about working in music in Scotland?
I'm sure everyone says this but it really is the people. I've only been a part of the music industry for a short time but I've made the most of it by attending events like Resonate, XPO North and the SAMAs – everyone is so welcoming and genuinely interested in what you're doing. Our conference next month is a representation of these connections and really is about bringing all these people together to be part of our big event. It's been amazing to work on the 2019 programme and organise the panels for this year as so many people are excited about coming to Dumfries and connecting with people in the region. It's also really exciting for us to be able to provide such a high level of expert insight and knowledge to our network here in Dumfries.
8. What do you feel Scotland's music industry needs to excel?
The Scottish music industry is
something remarkable and unique – there are so many incredible organisations,
initiatives, festivals, pubs, nightclubs and artists that make it what it is. I
would love to see this continue to grow and flourish and support local scenes
to build new careers and help develop the talents and skills of young people in
Scotland.