Interview: Roxanne de Bastion – From Me To You (#FM2U)
From Me To You (#FM2U) – a one day music conference from and for independent music artists – is making it's Glasgow debut on Saturday 1 September at The Old Hairdressers. We spoke to Roxanne de Bastion, founder and Event Organiser, to learn more about why the event was set up and what's in store for Glasgow…
Tell us a bit about the history of From Me To You – why and when was it set up?
From Me To You (#FM2U) is a music conference specifically from and for artists. I'm a singer songwriter, which can be a bit of a lonely endeavour. There's no handbook on how to become a professional musician, especially within such a fast changing industry. So much of what we do is 'learning by doing' and I've found that the more we share expertise and experiences, the better it is for all of us.
I set up From Me To You in 2014 after attending several larger and more traditional music industry conferences. They are super useful and can be great for making new contacts, but I just couldn't help but feel that the panel debates didn't really cover what was most relevant to me as an artist and didn't reflect my life as an independent musician. I thought it would be great to have a simialr sturcture (i.e. panel debates and keynotes), but from our point of view. At FM2U, all panels are moderated by artists to ensure that the debates are pertinent to us and include hands-on advice from piers as well as experts from other corners of the music industry.
How important is it to have a music conference from and for independent artists?
Regardless of whether you want to make pop music and work with a major label, or whether you are a travelling, self-releasing folk artist, you are the CEO of your little music business. As an artist, it's really important to understand how you can build your business around your art and you can only really do that by informing yourself. Learning from other artists is great, because it's honest and direct. It's really important for me to keep FM2U affordable for artists. Tickets are only £10 and for that, you get a day's worth of peer to peer learning, of meeting people and the opportunity to ask all the questions you might not have felt comfortable asking elsewhere.­
Why Glasgow, and why now?
Glasgow actually reminds me a bit of my home town, Berlin.. it has grit and so much personality. There is a thriving alternative and independent music scene here and I thought it would be an amazing place for FM2U. As for why now? Sorry it's taken me so long!
What's in store for the inaugural Glasgow event?
We have four panels and two musical keynotes planned. With the panels, we're aiming to cover all the basics of a release cycle, i.e. recording & releasing music, touring profitably and promotion. We have some amazing speakers confirmed, which includes artists such as Bryde, Rosie Bans, Dave Arcari, as well as representatives from record labels, distributors, sync & PR agencies as well as representatives from organisatinos such as the FAC, AIM and HMS.
Who are some Scottish artists that are exciting you right now?
Scotland has always produced a wealth of amazing artists and bands, including some of my all-time favourites (such as Annie Lennox and David Byrne!). As for grass routes artists, I'm really excited to get to know many more at FM2U. There are so much great grass routes artists across different genres and I hope to see them all at The Old Haridresser's on September 1st!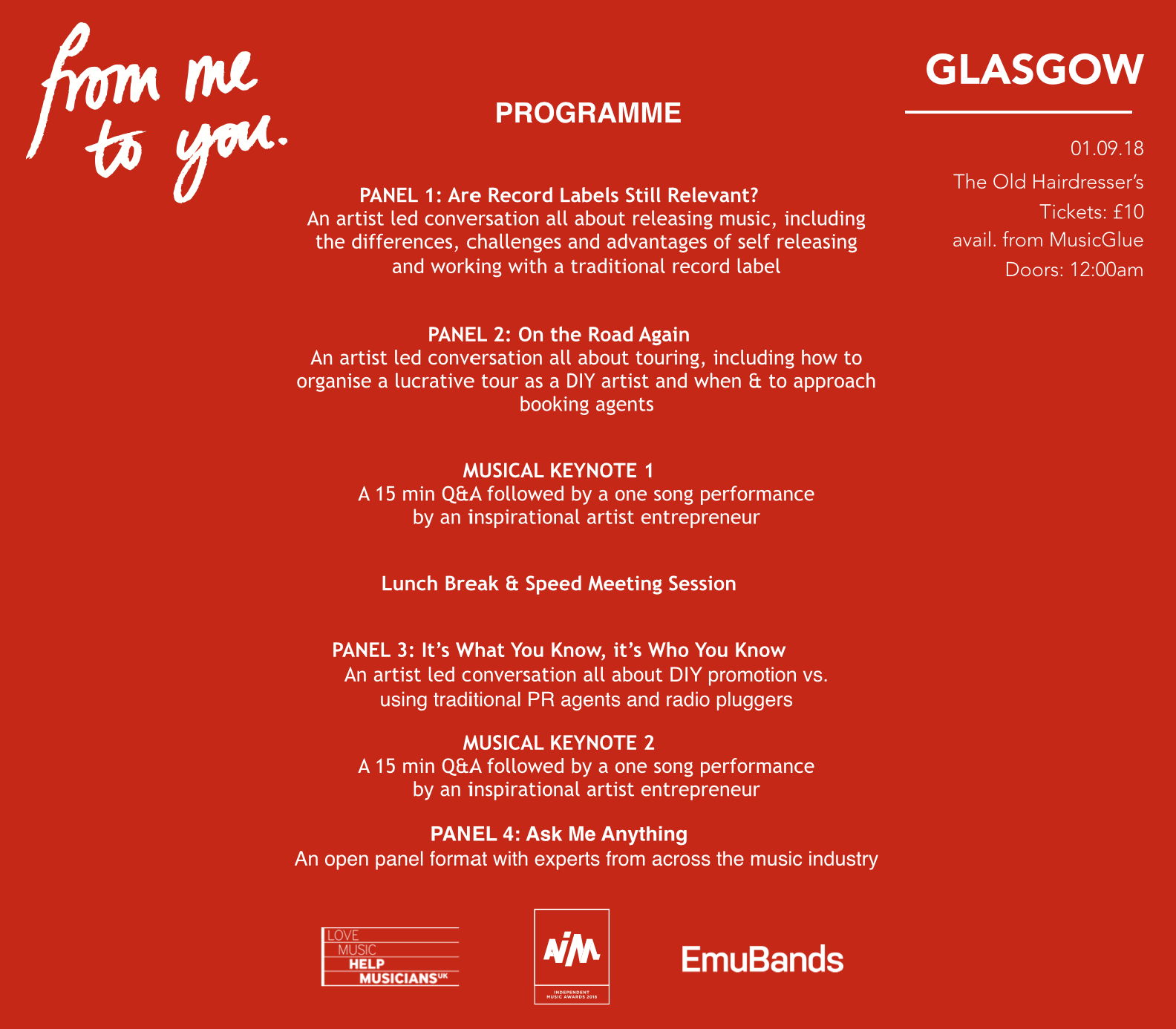 Tickets for #FM2U Glasgow are available now at: https://www.musicglue.com/fm2u/events/2018-09-01-fm2u-glasgow-the-old-hairdressers