Opportunity: SMIA Equalities and Industry Development Officer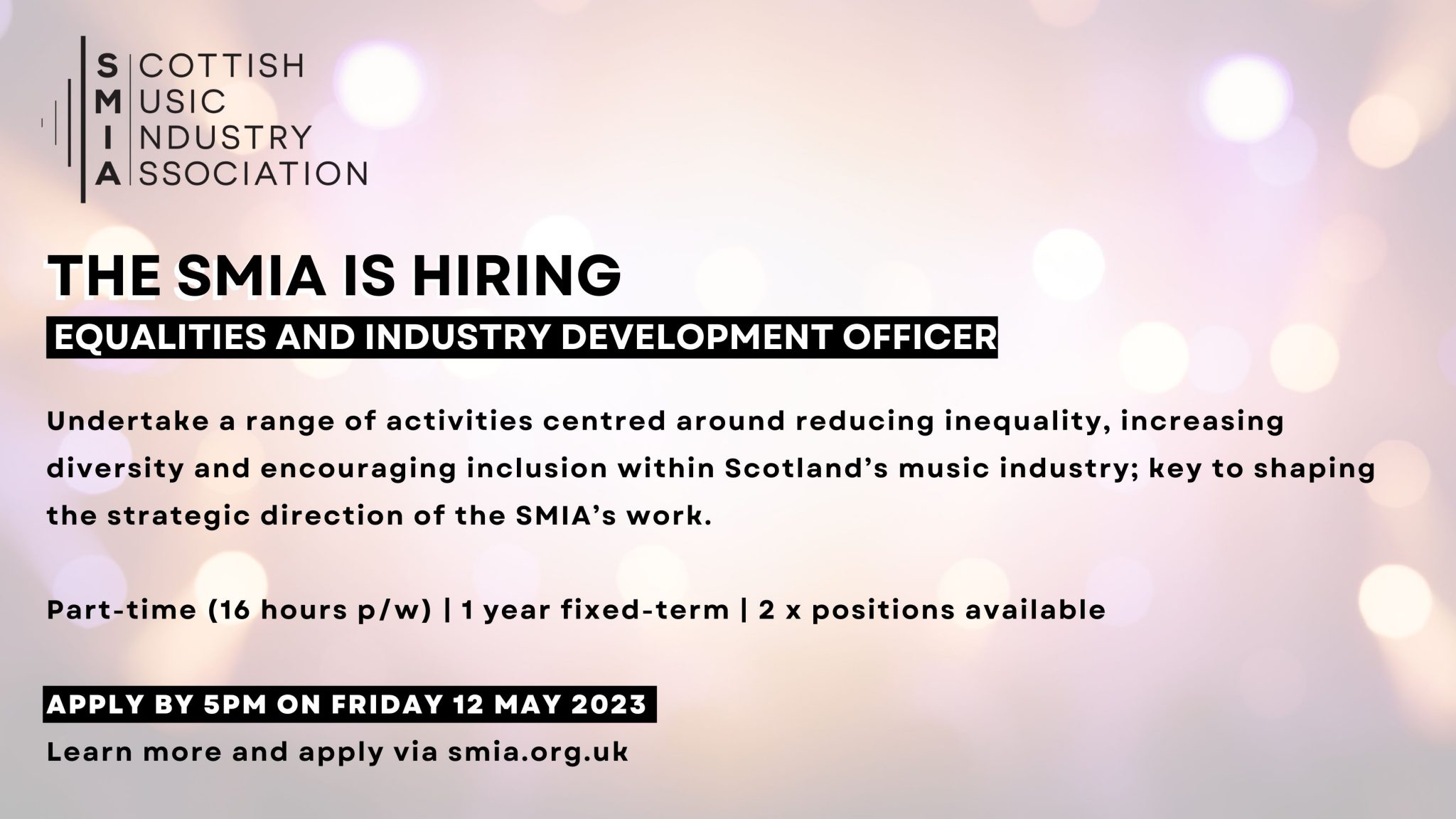 Company: Scottish Music Industry Association Ltd.
Location: Remote working / Glasgow (hybrid)
Reports to: CEO (daily operations) and Creative Director (projects)
Salary: £28,750 p.a. (£11,500 pro-rata)
Contract Term: 1-year fixed term
Working hours: Part-time – 16 hours per week (based on a 2 day working week)
The Scottish Music Industry Association (SMIA), in strategic partnership with Creative Scotland, is looking to recruit two Equalities and Industry Development Officers to join our small dedicated team.
The global pandemic and subsequent cost of living crisis has amplified existing inequalities. Launching and sustaining a career in music has become more challenging than ever, and for those from diverse backgrounds, barriers to participation have only extended further and may now seem unsurpassable.
These fixed-term funded roles have been designed to identify and respond to challenges being faced at present, as well as lay the foundations for meaningful, long-lasting change that will place equality, diversity, inclusion and accessibility at the heart of development initiatives for Scotland's music industry. They will be key to shaping the future strategic direction of the SMIA's work both internally as a company and externally through our projects, programmes, partnerships and sector support initiatives.
The Equalities and Industry Development Officers will report to the CEO and undertake a range of activities centred around reducing inequality, increasing diversity and encouraging inclusion within Scotland's music industry. They will work across SMIA initiatives around employability and skills development, music export and innovation, as well as on projects including the Scottish Album of the Year (SAY) Award and the SMIA Summit. Candidates with experience in equalities, policy development/implentation, community outreach and advocacy would be well placed to meet the objectives of this role. The Equalities and Industry Development Officers will have excellent listening and communication skills, along with a key interest in research and analytics to inform strategy and decision making.
Key Responsibilities 
Identify equality, diversity, inclusion and accessibility issues within Scotland's music industry to inform SMIA strategy and support the company in making wider recommendations for industry development

Introduce new policies and review existing practices to place equality, diversity, inclusion and accessibility at the heart of all SMIA initiatives and projects supporting Scotland's music industry

Work with the SMIA Executive Team and Company Board to develop and implement an industry-wide equality, diversity, inclusion and accessibility action plan; centred around enhancing opportunities for those from diverse backgrounds.

Deliver targeted outreach and needs-led activations to support, enhance and stimulate music business activity from individuals from diverse backgrounds.

Increase the SMIA's ability to engage with, understand, reflect, represent and respond to the diverse needs and wants of Scottish music practitioners.

Consult with SMIA members in relation to Equality, Diversity, Inclusion and Accessibility; offering advice, support and information to allow them to develop and implement their own diversity and inclusion action plans.

Monitor SMIA membership to identify and address areas of under-representation and where barriers to accessing opportunities in music in Scotland may exist.

Undertake ongoing consultation with those from diverse backgrounds to see the development of needs-led SMIA initiatives, designed to inspire cultural change.

Monitor, report and evaluate the activity delivered as part of the role as well as the impacts delivered, and oversee the reporting to funding body Creative Scotland and relevant stakeholders.
Person Specification
Essential 
Passionate about music with a solid understanding of Scotland's music industry.

Able to work as part of a team but also a self-starter.

Excellent communication skills (both written and verbal) with key attention to detail.

Experience of building diverse relationships and able to adapt style to suit the audience.

Strong organisational skills with the ability to handle multiple projects/priorities.

Sociable, enthusiastic and collaborative with a positive approach.
Desirable
Paid or unpaid work experience dealing with equality and diversity issues; especially in a music industry context

A knowledge and understanding of equal opportunities issues and legislation

Experience in human resources, youth and community work or social work
How To Apply
If you meet the criteria we require for this role then we want to hear from you. We champion opportunity and celebrate diversity. The SMIA is committed to equal employment opportunity regardless of sex, gender identity, ethnicity, national origin, sexual orientation, age, marital status or disability.
To apply for the role of Equalities and Industry Development Officer, please send your CV and a cover letter to jobs@smia.org.uk.
Application deadline: 5pm on Friday 12 May 2023.
Interviews will be held in person in Glasgow on Monday 22 May 2023. If selected for interview you will be expected to be available on this date.
We look forward to hearing from you.