SMIA Members Spotlight: Jen O'Brien (Music Broth)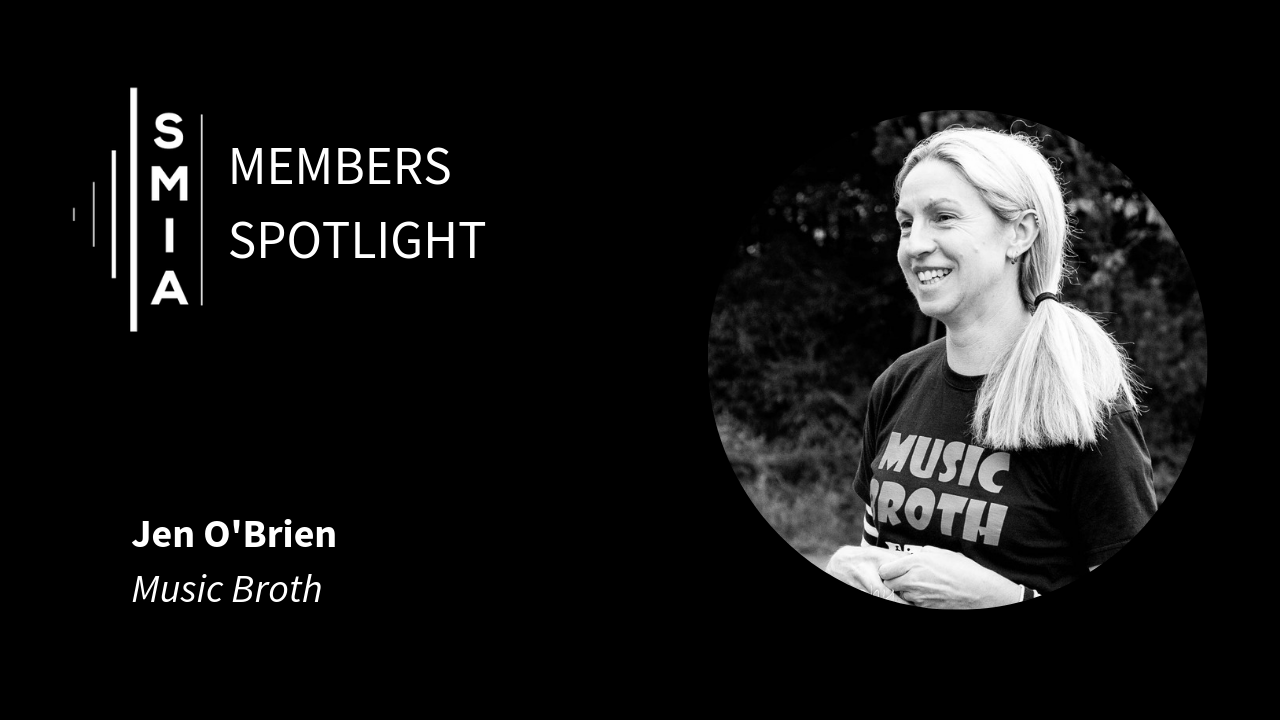 Tell us a bit about you and what you do…
I'm Co-Founder of Music
Broth, Scotland's first musical instrument and equipment library, social
enterprise with charitable status. I run Music Broth alongside Founder Felix
Slavin from our base in Govanhill, Glasgow. Our whole ethos is to provide
equitable access to musical opportunities for all.
Felix came up with the idea for a musical instrument and
equipment library after being left 8 instruments by his late musician uncle
Paul and considering how best to share his legacy. I met Felix in summer 2017
and I was drawn to the idea of supporting those less able access music, and
also the re-use aspect; getting neglected instruments repaired, restored and
shared to new hands. We've been working together since then and our Music Broth
library, thanks to the generosity of the Glasgow and wider Scotland community,
now has over 500 musical instruments and equipment which are accessible to all.
Everything from tin whistles to pianos!
We operate through affordable memberships for those who can contribute; individuals, bands and organisations, with income generated supporting our hardship fund for those less able. We support anyone wishing to pursue a musical venture; e.g. providing instruments for learners and established musicians alike to take home long-term, short-term occasional use of unusual instruments for recording, backline for gigs, PA for events, musical workshops, use of our library space for jamming/rehearsing/videoing, and training and volunteering opportunities. All are welcome. Our annual memberships for bands and organisations have been particularly popular as we take the hassle out of getting kit organised and to and from venues.
2. How long have you been working in the music industry?
I've been singing, playing and writing music for as far back as I can remember, but I started properly working in bands in my early 20's I guess. When I moved to Scotland over 15 years ago the music scene here was so welcoming it was an easy transition to get straight in and involved.
3. What do you enjoy most about what you do?
Bringing joy! Supporting people to harness
their musical talents, creating equity and opportunity, working with great
people, and learning about unusual musical instruments that arrive in our
library and the wonderful stories that go along with them.
We have supported young people with
additional needs to access skills they didn't know they had, helped refugees
and asylum seekers take instruments home to allow them to express themselves
and their stories, and get more involved and make friends locally. We've supported
fledgling bands to do gigs they might not otherwise have had kit to, helped our
volunteers grow in confidence and develop into tutors and mentors.
We've supported great bands and organisations with affordable backline for gigs and events. It can be stressful, and there's a lot of lugging kit around and background work making sure everything is working and in the right place at the right time (I'm a pretty good roadie now!), but there's immense pride in kit you've restored working and sounding well in a good venue. Added bonus we get to see some fabulous diverse acts whilst working, that's not so bad either! Running my own business is great too in contrast to working for someone else, sometimes there are pretty steep learning curves but Felix and I basically manage and drive everything together, we're a pretty formidable team.
4. Who are some of the people you've worked with?
Well the biggest shout out goes to everyone who has
supported us on the Music Broth journey so far, library members, donors of
instruments and hard earned cash, and our amazing volunteers; there is so much
time and effort dedicated behind the scenes; repairing and restoring
instruments, cataloguing, photographing, social media, supporting library
members, lugging bass amps around…!
We're linked across many brilliant organisations in Scotland
with great library organisational members such as Girls Rock Glasgow, Refuweegee, Moonstruck on Clydeside,
New Hellfire Club, YCSA, Moral
Decay, Growing Together by Cornerstone…
Many talented musicians have supported us playing live at
events or hiring equipment from our library their ethos helps us provide
equitable music access for all: Dave Arcari, Mickey 9s, Tongue Trap, Mark McGhee, L-Space, Matt Roddy, The Well Happy Band, Pandacar, The Three n Eights, Colonel Mustard and the Dijon 5,
BEATBOX Scotland just to
name a few…
On a personal musical journey our band Seafern are also currently in studio working with Square 9 Recordings new venture of Antony from Mickey 9's on our upcoming EP which we're pretty excited about, so watch this space…
5. Where do you see you/your organisation in the next five years?
I see Music Broth expanding and growing across Glasgow and
wider Scotland, supporting more people, and creating employment too. We've worked
really hard to establish our social enterprise from the ground up and are
seeing increasing interest and demand. In these times of austerity and climate
emergency the sharing economy is definitely the way forward so I'd of course encourage
everyone to get involved with us be it joining as a library member,
volunteering, hiring kit from us, shouting about what we do. As far as we're
aware we're only the third existing musical instrument library worldwide so
it's worth us shouting about I think 🙂
Musically I'll still be making plenty of noise too I'm sure! Five years is a good target for a SAY Award maybe… 😉
6. What's coming up for Music Broth?
We've got our Music Broth Big Fundraiser
gig this Sat 27th July featuring Ghostbaby, GRAVELLE and Calum Ingram. If you
can't make it to the gig you can still support us on our Summer Fundraiser page.
Our Music Broth Big Thank
You event is coming up on Sun 11th Aug as part of Govanhill
International Festival and Carnival showcasing library members, instrument
donors, volunteers, all family friendly and great fun!
Our free guitar lessons
in partnership with the all-round lovely tutor Roger Whyte are ongoing in
Pollockshaws and we're intending extending our popular Grow With Music
Programme further, so watch for updates.
Otherwise we're working on keeping everything in our library in great condition, and getting musical kit out there!
7. What's the best thing about working in music in Scotland?
The people! The ethos, vast musical talent, and that friendly open thing Scottish musicians and music industry professionals do which is "oh you're looking for a drummer/podcast/venue/support act/etc have you tried…." I've made so many good friends and great contacts through conversations between acts at gigs and found the whole community very uplifting of each other. I'm continuously humbled by the generosity of people supporting our journey at Music Broth too through donating instruments, time, talent, and spreading the word.
8. What do you feel Scotland's music industry needs to excel?
It feels really vibrant just now in the Scottish music scene
with well-established bands across all genres and some serious up and coming
talent. We should all continue to encourage our friends, families, contacts,
acquaintances, to get out and support live acts and independent artists as
that's so important for the industry as a whole.
I feel it's essential to also address intersectional and
gender representation across the industry; Scotland has a wealth of talent
which should be represented locally, and particularly at high profile venues
and festivals where we have the opportunity to become world leading on
representing a true cross section of our musicians. At Music Broth we work with
young people and older people, from across all genders and backgrounds, and
it's important to have role models everyone can relate and aspire to.
Investment in music learning has sadly been dwindling, despite
being proven positive in many life aspects; such as mental health and overall
attainment. We set up Music Broth in response to this gap as we wanted to build
a sustainable enterprise which removes financial barriers to musical opportunities.
The response we have received across the industry and community so far has been
amazing and we're up for more and excited for the future!
Links:
Email: info@musicbroth.org
Website: https://www.musicbroth.org/
Facebook: https://www.facebook.com/MusicBrothGlasgow/
Twitter: @MusicBroth