SMIA Members Spotlight: Diljeet Bhachu (Scottish-Asian Creative Artists' Network [ScrAN])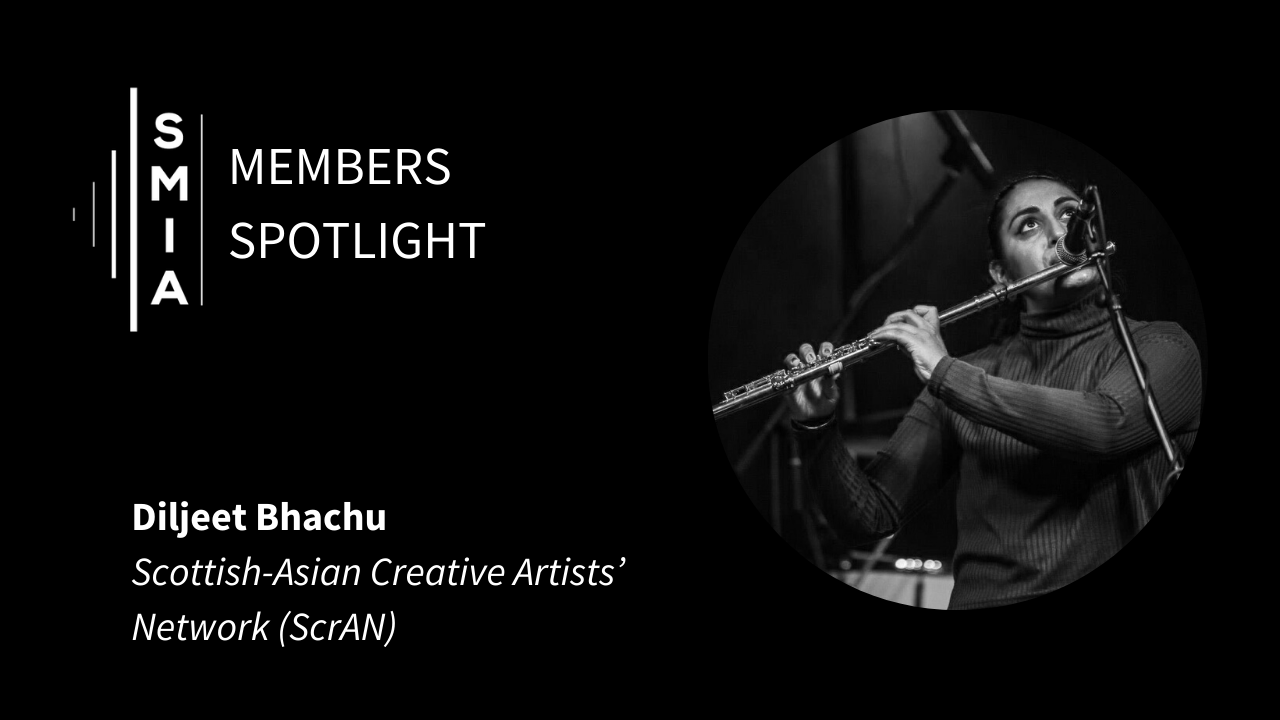 Tell us a bit about you and what you do…
Hello, I'm Diljeet and I'm a musician-activist-researcher based in Glasgow. I'm currently doing lots of different things – I've just finished a PhD, so I'm juggling some university teaching work, coaching, and writing and playing music, as well as a job in the heritage sector. As a researcher, I'm mostly interested in access and equality issues in music education, which makes sense since I'm involved in equalities work in the trade union movement too, and I'm on the board of Scottish Women Inventing Music (SWIM). I co-founded ScrAN in 2017 with Sodhi Deerhe. We both felt there was a need for an umbrella organisation for all asian artists in Scotland – regardless of artistic practice, or whereabouts in Asia our roots lie. We exist to promote the diversity and plurality of Scottish-Asian artists, and to provide opportunities for those artists to develop and share their work. 
2. How long have you been working in the music industry?
I've been in the industry for about 10 years I guess, if I use my first paid gig as my 'start-date'.  Sodhi has been performing in Glasgow and further afield for nearly 30 years. 
3. What do you enjoy most about what you do?
I just love that I enjoy all of my jobs – I think that puts me in a really lucky position, that I've matched all of my passions in life with all of my jobs. To be less vague, I love that my work involves being creative, meeting people, no two days are the same… I get to decide what I do a lot of the time, and there's something really satisfying about making decisions and seeing them through. For me, ScrAN is a way for me to address the issues I think are important.
4. Who are some of the people you've worked with?
At ScrAN, we're really lucky to have so many amazing Scottish-Asian artists to call on when we're doing projects. In terms of musical collaborations, ScrAN have worked with Ankna Arockiam, Semay Wu, Madeleine Pritchard and Kapil Seshasayee – all amazing local artists doing such a wide array of things – and through Glasgow Mela we're really pleased that we've been able to give local artists a local platform to perform. 
5. Where do you see you/your organisation in the next five years?
As an individual, I've been busy writing new music, so I'm looking forward to sharing that with the world in the next few years. For ScrAN, we're 2 years old now, so in the next 5 years we'll be consolidating a membership, growing, making a difference hopefully. 
6. What's coming up for ScrAN?
So we're really excited to be producing Glasgow Mela again in 2020 as we had so much fun with Mela 2019 and it's such a huge opportunity for us. We're also launching a mentoring and career development scheme. 
7. What's the best thing about working in music in Scotland?
I think we're really lucky that in a country as small as Scotland, we've got such a diverse ecosystem of music – there's so much happening and so much passion, especially at a grassroots level. 
8. What do you feel Scotland's music industry needs to excel?
I think the industry can definitely do more in terms of equitable access and opportunities for people. Grassroots efforts seem to be doing better on this than the big players, so I'd like to see that institutional change.