RESONATE ANNOUNCE FIRST SPEAKERS FOR 2021 HYBRID EVENT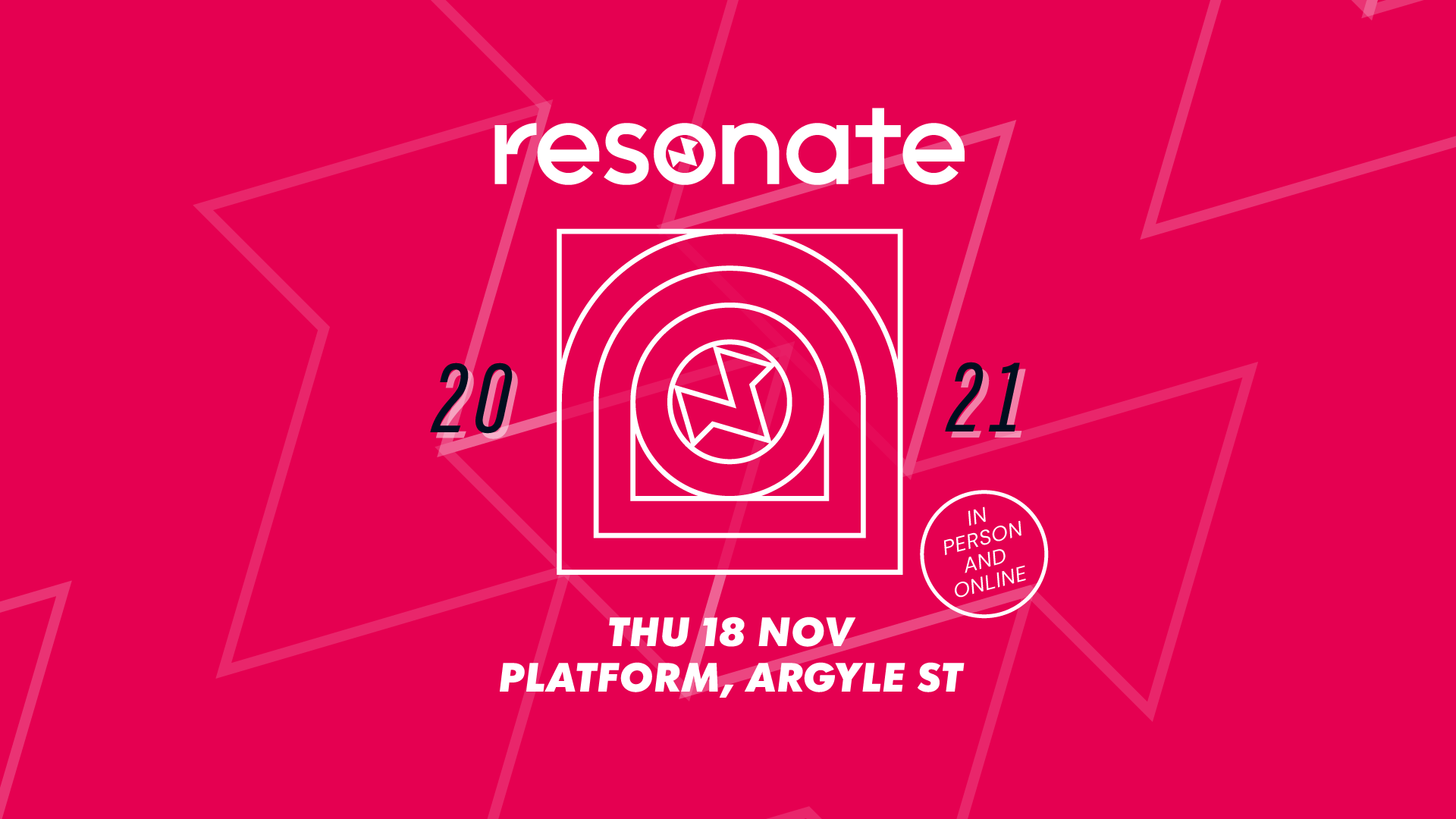 RESONATE ANNOUNCE FIRST SPEAKERS FOR 2021 HYBRID EVENT – INCLUDING UNIVERSAL MUSIC FRANCE A&RS, NIGHT TIME INDUSTRIES ASSOCIATION CEO AND BANDCAMP ARTIST & LABEL MANAGER
RESONATE ANNOUNCE THEIR FIRST EVER HYBRID EVENT WHICH INCLUDES A RETURN TO AN IN-PERSON EVENT AT THE NEW HOST VENUE – PLATFORM, ARGYLE STREET ON THURSDAY 18TH NOVEMBER 2021
TICKETS ON SALE FRIDAY 3RD SEPTEMBER– https://www.resonatescot.co.uk/buy-tickets
#Resonate2021
RESONATE, Scotland's music conference event for industry professionals, musicians, students and aspiring artists, today announced their first speakers ahead of the 5th edition of the conference event which is set to take place on Thursday 18th November. RESONATE are set to deliver another educational day filled with practical workshops, panel discussions, one to one advice sessions and presentations at their new home of PLATFORM, ARGYLE STREET [formally known as The Arches]. New to this year's programme is the inclusion of an in-person and digital programme running alongside one another. The aptly named hybrid format brings opportunities both in-person and at home learning with a mini-programme being made available in real-time on the day.
Resonate continues to drive & encourage a more collaborative Scottish music industry and bring their new digital event to audiences via pioneering virtual event platform Hopin.
The new format has allowed RESONATE to amplify what they do so greatly… bring industry training, business development and collaboration opportunities to Scotlands' exuberant music scene.
With the 2021 event striving to promote an ethos of promoting collaboration, creativity, accessibility & development to music industry professionals & enthusiasts in Scotland & beyond. RESONATE today announced some of the quality and experienced music industry speakers attending 2021's edition. Speakers including digital analyst Alex Brees who whilst at Universal worked on projects for KATY PERRY, BASTILLE & ANDREA BOCELLI, as well as music consultant Steve Farris whos vast experience across multiple sectors has led him to work with SNOW PATROL, BELLE & SEBASTIAN, BILK, PSYCHEDELIC PORN CRUMPETS and many more.
Resonate also welcome heavyweights in the world of A&R in Adelaide Deffond and Clément Le Gall to the newly added Resonate International section – both at UNIVERSAL FRANCE, Adelaide & Clément are on the frontline of international collaborative projects and involved with the likes CHRISTINE & THE QUEENS, JUSTICE and METRONOMY. The newly added Resonate International section will see our international panellists beaming in via Zoom.
RESONATE also welcome Aly Gillani of BANDCAMP – an organisation who have been at the heart of supporting independent artists and labels particularly during the pandemic with their #BandcampFriday campaigns. Aly is the EU representative for artists & labels and will be on hand to answer any queries on the platform.
As with all previous events, the Resonate team are looking to provide ample opportunity for networking and collaborations across genres and that stands true to this day with electronic pioneers like Jonathan Fernandez – WHEELMAN, freelance journalist Jo Dargie – BACK 2 BACK CAST and PULL PROXY's Carola Stoiber all flying the flag for electronic music.
Having cemented itself as a staple event in the Scottish music calendar, RESONATE continues to commit to provide opportunities for collaboration, creativity, accessibility & development. Taking a new look this year, with a move into the hybrid event space RESONATE is more driven than ever to provide the music community a programme of exceptionally qualified speakers, exemplary activities and safe spaces for musicians & music industry professionals to speak honestly about challenges and opportunities facing them right now.
1st Wave Of Speakers
Adelaide Deffond – A&R Universal France, Ailsa Harper – Aimless Play, Alex Brees – Unhurd, Aly Gillani – Bandcamp, Benji Rogers – Lark 42, Carola Stoiber – Pull Proxy, Clément Le Gall – A&R Universal France, Jo Dargie – Back 2 Back Cast, Jonathan Fernandez – Wheelman, Kat Deal – Songwriter, Producer, Kristoffer Rom – Nordic Waves, Michael Kill – Night Time Industry Association
TICKETS ON SALE FRIDAY 3RD SEPTEMBER – https://www.resonatescot.co.uk/buy-tickets
DAY PASS – £50 STUDENT PASS – £35 ONLINE PASS – £10