NEWS: THE SAY AWARD LONGLIST 2023 ANNOUNCEMENT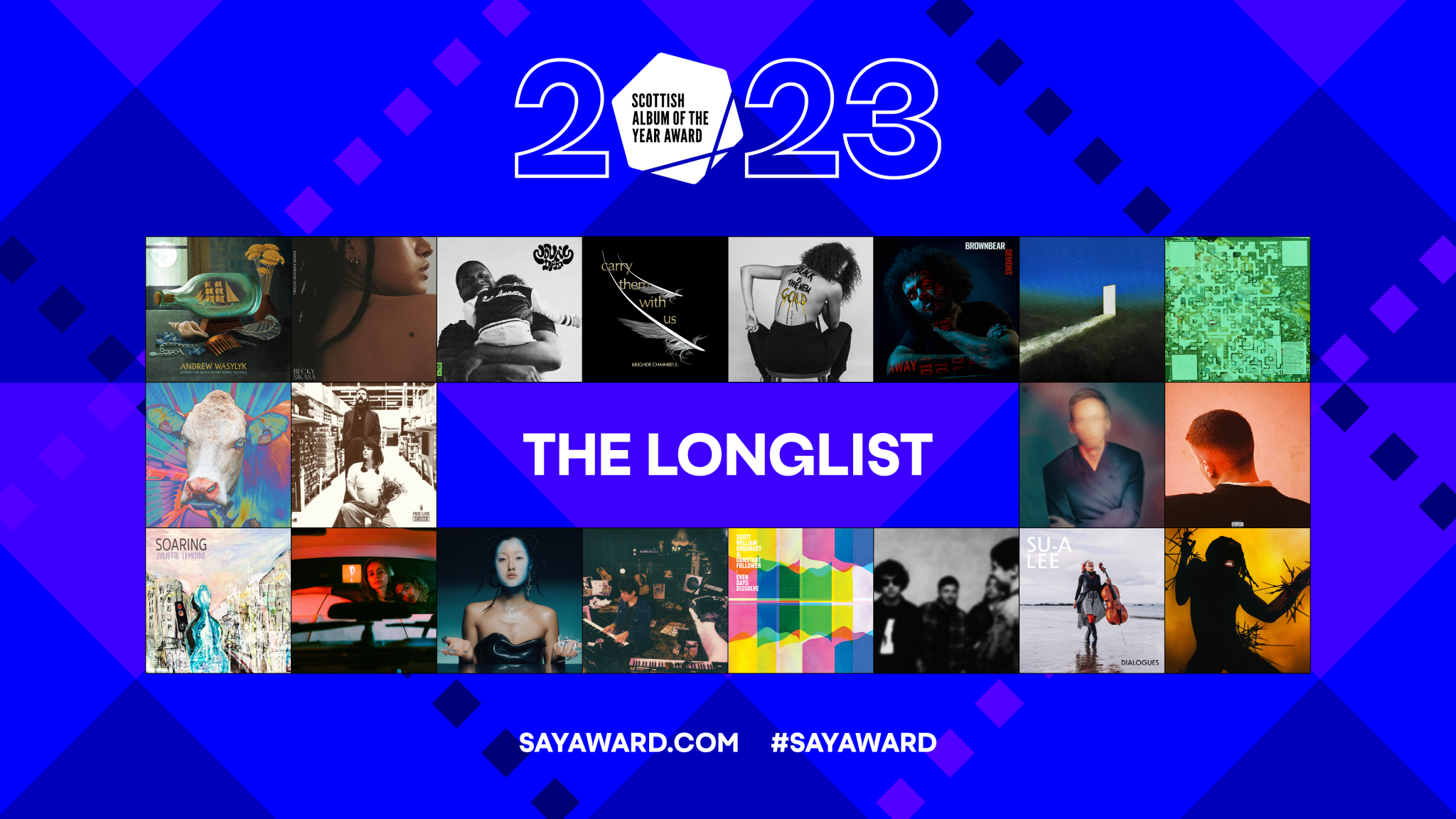 Now in the running to win the coveted title and £20,000 first prize, we're delighted to announce The SAY Award Longlist for 2023; as whittled down from a record-breaking 437 eligible albums by 100 impartial industry Nominators:
Andrew Wasylyk – Hearing The Water Before Seeing The Falls
Becky Sikasa – Twelve Wooden Boxes
Bemz – Nova's Dad
Brìghde Chaimbeul – Carry Them With Us
Brooke Combe – Black Is the New Gold
Brownbear – Demons
Cloth – Secret Measure
Comfort – What's Bad Enough?
Eyes of Others – Eyes of Others
Free Love – Inside
Hamish Hawk – Angel Numbers
Joesef – Permanent Damage
Juliette Lemoine – Soaring
Kapil Seshasayee – Laal
LVRA – Soft Like Steel
Paolo Nutini – Last Night in the Bittersweet
Scott William Urquhart & Constant Follower – Even Days Dissolve
The Snuts – Burn The Empire
Su-a Lee – Dialogues
Young Fathers – Heavy Heavy
The SAY Award Longlist is formulated through an extraordinary nationwide consultation with members of Scotland's music and arts communities. Each year, the Scottish Music Industry Association (SMIA) tasks 100 impartial 'Nominators' – selected from sectors including journalism, music retail and music venues – with reviewing the eligible albums list and nominating their five favourite albums in order of preference. The SMIA assigns a score to each title in a Nominator's Top 5, before announcing the 20 highest-scoring albums as The SAY Award Longlist.
Robert Kilpatrick, Interim CEO and Creative Director of the Scottish Music Industry Association (SMIA) said,"Each year, artists, industry professionals and music fans alike eagerly anticipate which 20 outstanding Scottish albums will make up The SAY Award Longlist. The unifying platform that SAY offers compiled with the egalitarian nature of both our submissions and nominations process is, what I believe, makes The Longlist stand up as important, credible and authentic.
"Scotland's cultural identity is shared; it belongs to and is influenced by everyone that calls Scotland home. In a music context, it's the SMIA's job to make sure that the full spectrum of Scotland's music industry is reflected in our work, and with The SAY Award Longlist being determined by 100 impartial industry Nominators – comprising individuals from a wide range of backgrounds and genre specialisms from right across the country – this means it's much more than a list of 20 great records; it's the soundtrack of life in Scotland.
"A massive congratulations to each of this year's nominees. With 2023 seeing a record-breaking 437 eligible albums submitted, it's an amazing achievement and a testament to the strength and diversity of Scotland's recorded output."
Alan Morrison, Head of Music at Creative Scotland said, "The album is an anchor in the choppy seas of random playlists. It's a personal statement of intent, a self-contained body of work that lets listeners know how an artist is feeling at a precise moment in time. The 20 nominees on this year's SAY Award Longlist celebrate friendship and fatherhood, confront anxiety and identity, and sometimes just revel in the unbridled joy of good music. This is a fantastic snapshot of Scotland in all its creative glory."
Stirling Council Leader Chris Kane said, "This is an exciting milestone in the countdown to this year's SAY Award Ceremony at Stirling's Albert Halls and a fantastic list of artists who have made the Longlist this year. I'm proud that a number of the nominated acts may be familiar to Stirling audiences through having performed at the Tolbooth, one of the best live-music venues in the country."
From a record-breaking 437 eligible album submissions in 2023, this year's Longlist spans the length and breadth of Scotland, with albums from the Highlands to the Central Belt making the cut, as well as newcomers and SAY Award alumni. Debuts from Becky Sikasa, LVRA and Brooke Combe sit alongside veterans of the Scottish music industry and previous SAY Award winners and Shortlisted artists including Young Fathers, Paolo Nutini and Andrew Wasylyk.
SAY Award 2023 Longlist – Artist Quotes:
Andrew Wasylyk said, "Very surprised and pleased to be considered alongside so many wonderful Scottish artists. Honoured and grateful, thank you. Good luck one and all."
Becky Sikasa said, "'Twelve Wooden Boxes' means everything to me. I poured all my heart, pain and love into this body of work; took so much time and care to make sure it's right, authentic to my art and myself. I feel incredibly honoured that it's being recognised by being part of the Longlist for this year's SAY Award."
Bemz said, "It's amazing that this body of work has been recognised by such a big institution like The SAY Award. I am proud of what me & the team were able to make & even more proud that it has now been seen and respected by the industry."
Brìghde Chaimbeul said, "This album was a total dream for me to make, and I feel very honoured to have worked with Colin Stetson as well as Julie McLarnon. I am so delighted that it has been included in The SAY Award Longlist 2023."
Brooke Combe said, "I'm over the moon to see 'Black Is The New Gold' is in the running for The SAY Award 2023. It is a collection of tunes that sort of shaped the beginning of my career and moulded me into the artist I am. It shows the development of this whirlwind journey and it's something I'm very proud of."
Brownbear said, "I am delighted that 'Demons' has made The SAY Award Longlist – this album has been my most honest and open piece of work to date, to see its connection with our audience and what the songs mean to people has been humbling. It has exceeded all expectations and now for this record to be listed alongside some of Scotland's top talents is truly an honour."
Cloth said, "We're incredibly proud that our album has been Longlisted for The SAY Award. Being Shortlisted for our debut album in 2020 did so much for our band and opened a lot of doors for us so it's really exciting to be part of the award again this year. To have our music recognised in this way is a wonderful thing, especially in such a strong year for Scottish music."
Comfort said, "We are absolutely buzzin' that our record 'What's Bad Enough?' has been included in The SAY Award Longlist. Scotland (Glasgow for us in particular) is a fantastic place to live and work as part of a band, the artistic community is beyond supportive and it's an absolute joy to be involved in such a large, rich and talented music scene. We attended SAY's ceremony in 2020 and it gave us encouragement to continue pushing ourselves in what was a time of huge uncertainty. Hopefully we can make it to the Shortlist and actually attend the ceremony this time!"
Eyes of Others said, "I was very pleased to hear about the nomination. The album was 37 years in the making so I'm dead chuffed that it's made the Longlist."
Free Love said, "With 'INSIDE', we tried to focus the energy of a difficult and weird time into something meaningful by holding close what we loved so it wouldn't slip through our fingers – and so it is very special for us that INSIDE is being considered for The SAY Award. Thank you to everyone that has come INSIDE with us."
Hamish Hawk said, "We're truly humbled to be included in The SAY Award Longlist for the second year running. 'Angel Numbers' is an album about ambition, about notions of success, failure, and divine interventions, so it all feels a little surreal to be in this position. We're a Scottish band through and through, so to be named alongside such gifted Scottish artists is a thrill and an honour."
Joesef said, "It's really nice to be considered for The SAY Award. I've always been proud to be Scottish, and tried to reflect that in the stories I tell in the music I make. To me this record is so inherently a Glasgow album, all the noise, grief and the heartbreak are set under the particular experience of growing up in the East End. To be recognised amongst the endless pool of talent coming out of Scotland at the minute is something I'm very grateful for, hwfg x x x x"
Juliette Lemoine said, "For a long time The SAY Award has been championing outstanding music across all genres in Scotland, so it's a genuine honour to have been included in the Longlist. 'Soaring' was a process of exploration and discovery, and I hope that this spotlight will allow more people to hear the cello outwith its typical context and help to promote the cello as a key instrument within contemporary Scottish Traditional music."
Kapil Seshasayee said, "It means a whole lot to make it to the Longlist for SAY 2023! I couldn't have written this album without my collaborators in Scotland from my producer / drummer Edwin Mclachlan to my photographer Sean Patrick Campbell. While the subject matter might deal with the Indian film industry – the themes that 'Laal' explores including nationalism, censorship and disability rights are no less relevant in Scotland."
LVRA said, "I am incredibly honoured to be part of this year's SAY Award Longlist and to be considered for such a prestigious award. The continued support following winning the Sound of Young Scotland Award in 2021 has been absolutely pivotal for my career."
Paolo Nutini said, "Thank you for the kind nomination. It feels nice to know the record is resonating out there and to be in the company of some of my favourite records to come out this year…It means a lot. Thank you and much love."
Scott William Urquhart & Constant Follower said, "We're utterly humbled to have our work recognised in the Longlist of this prestigious award. The SAY Award is a barometer of the quality of Scottish music and to have this beautiful little album we made recognised alongside such stunning works, is just such a huge encouragement for us. It's a joy to be able to celebrate the work of all the musicians, artists and filmmakers who made the album as special as it is – without them, and without the permission from Norman MacCaig's publishers, it would be a very different album. We're buzzing!"
The Snuts said, "It's always great to be acknowledged alongside such great Scottish artists and albums."
Su-a Lee said, "It's an honour to be included in the Longlist for this award. Until recently I've always been a member of an ensemble or collaboration so a solo album was a huge step for me. 'Dialogues' is about finding my own voice, and the interaction of two voices in musical conversation. But it's more about exploring the voice of the cello in Scottish folk music, – bringing what is often an accompaniment instrument to the fore. This nomination is an exciting step forward for the instrument in the genre of folk music and I'm very proud of what we have created."
Young Fathers said, "The three of us are extremely humbled by this nomination. It's no secret we're proud Scots & even prouder representing Scotland, so to be recognised with this nomination is a true honour. Thank you everyone who chose us to be included."
The Longlist will now be whittled down to a Shortlist of 10 albums, one of which will be chosen by music fans via a 72-hour online public vote from 2 – 4 October. The remaining nine albums will be chosen by The SAY Award judging panel, who will then later reconvene to determine 2023's winner; exclusively announced at Stirling's Albert Halls on Thursday 26 October at The SAY Award Ceremony 2023.
The SAY Award winner will receive a £20,000 prize and walk away with the coveted title of Scottish Album of the Year, whilst nine runners up on the Shortlist will each receive £1,000. All artists will also receive bespoke prizes created by a Stirling-based artist through The SAY Award Design Commission; highlighting the enduring links between music, art and design in Scotland.
The SAY Award winner will be revealed alongside the winner of The Sound of Young Scotland Award and the Modern Scottish Classic Award. The Sound of Young Scotland Award aims to stimulate the future of Scottish music and provides a young and emerging artist with financial support to enable the creation of their debut album, whilst the Modern Scottish Classic Award recognises an iconic album from Scotland's past that still inspires today.
As one of the most highly anticipated nights in Scotland's musical calendar, music fans can buy tickets to attend The SAY Award Ceremony now at sayaward.com; joining an audience of artists, industry professionals, press and cultural tastemakers to celebrate the cultural impact and contribution of outstanding Scottish albums. Set to a back-drop of special live performances that showcase the strength and diversity of Scotland's musical landscape, The SAY Award Ceremony makes its return to Stirling's Albert Halls on Thursday 26 October.
The SAY Award also continues its commitment to the support of young people in Scotland by partnering with the country's young people's mental health charity, Tiny Changes. Set up in memory of artist and Frightened Rabbit frontman Scott Hutchison, the organisation aims to help young minds feel better through a community of tiny change-makers.
The SAY Award is a Scottish Music Industry Association (SMIA) production and has distributed over £330,000 in prize money to Scottish artists since its inception in 2012.  The SAY Award 2023 is delivered in partnership with Creative Scotland, Stirling Council, Stirling Alive with Culture, YouTube Music, Seabass Vinyl, Ticketmaster, Help Musicians, HMV, FOPP, PPL, Spotify, Go Forth Stirling, Youth Music Initiative, Youth Music and Music Declares Emergency. The SAY Award's Charity Partner for 2023 is Tiny Changes; Scotland's very first national children and young people's mental health charity funding projects and ideas that help young minds feel better.
Now in its twelfth year, previous winners of The SAY Award include; Fergus McCreadie 'Forest Floor' (2022), Mogwai 'As The Love Continues' (2021), Nova 'Re-Up' (2020), Auntie Flo 'Radio Highlife' (2019), Young Fathers 'Cocoa Sugar' (2018), Sacred Paws 'Strike A Match' (2017), Anna Meredith 'Varmints' (2016), Kathryn Joseph 'Bones You Have Thrown Me And Blood I've Spilled' (2015), Young Fathers 'Tape Two' (2014), RM Hubbert 'Thirteen Lost & Found' (2013) and the inaugural winner Bill Wells and Aidan Moffat 'Everything's Getting Older' (2012).
Tickets for 2023's ceremony at the Albert Halls, Stirling are on sale now via www.sayaward.com with 2022's winner Fergus McCreadie set to perform before the winner of Scotland's national album prize is revealed.
Don't miss The SAY Award 2023 news – follow the award on social media across Twitter @SAYaward, Instagram@sayaward, Facebook @SAYaward and TikTok @thesayaward