NEWS: SMIA STATEMENT ON THE SCOTTISH GOVERNMENT'S CUTS TO THE CREATIVE SCOTLAND 2023-2024 ANNUAL BUDGET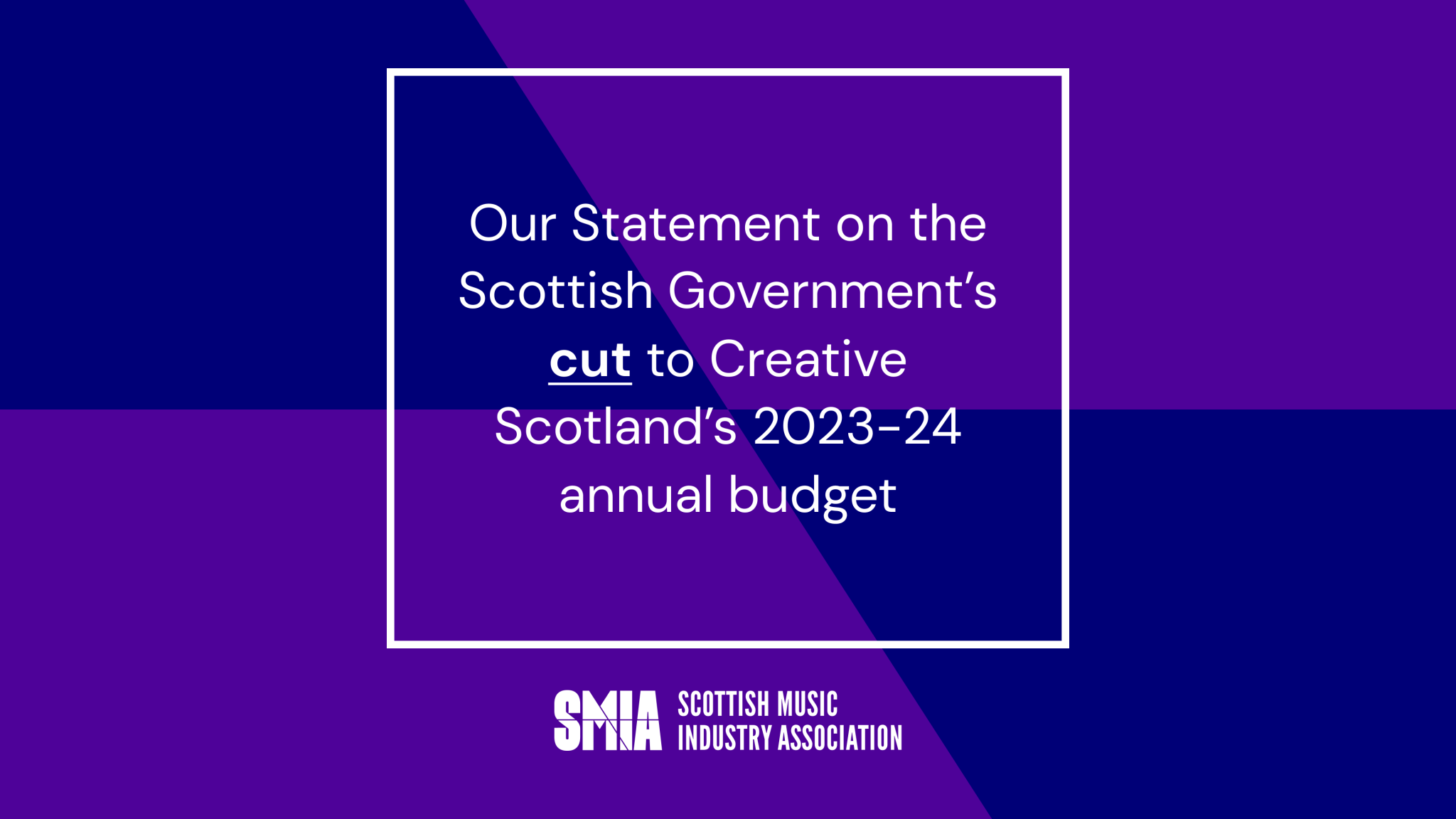 "As part of the Autumn budget review, the Scottish Government has re-instated a 10% cut to Creative Scotland's 2023-24 annual budget (totaling approximately £6.6m), which following mass campaigning from the cultural sector, was overturned earlier this year. As the organisation which exists to strengthen, empower and unite Scotland's music industry – representing a diverse membership of over 4,000 people working across all music genres and industry subsectors – we're compelled to highlight the devastating impact of this decision; not just to music and culture, but to Scottish society at large.
The cut directly relates to the funding allocated to support Creative Scotland's Regular Funding Network, comprising 119 cross-artform organisations (RFOs) that are structurally integral to both supporting and delivering Scotland's cultural output. The SMIA is one of them.
In the short-term (for the rest of this financial year), Creative Scotland has had to divert to utilising National Lottery reserves to plug the gap and prevent the cuts from being passed on to members of the RFO network. If this hadn't been the case, in two weeks' time when the next RFO funding payments are due, each of the 119 organisations would, in effect, have received a ~40% cut to projected funding. In the SMIA's case, this would have been two weeks ahead of the Scottish Album of the Year (SAY) Award Ceremony, and would have put the delivery of Scotland's national music prize at significant risk.
The cut would have again been replicated in January at the next (and final) RFO payment for this financial year, which in the case of many organisations, would have meant the end. Whilst immediate disaster has been avoided, the use of Creative Scotland reserves at this stage means that they are now significantly depleted for what was their intended purpose.
Last month, Creative Scotland highlighted that over 500 cultural organisations stated their intention to apply for Multi-year funding; a new funding scheme that will replace the current Regular Funding one. From the intentions to apply, the indicative annual request was in excess of £113m – far exceeding what Creative Scotland expects to have available. Inevitably, this means that Creative Scotland will not be able to support as many organisations on a multi-year basis as they currently do, and the application process will be highly competitive. Causalities are expected and imminent. Cultural organisations across all art forms are worried about their future, and the reserves that Creative Scotland has had to use now means that there's far less available transitional funding for unsuccessful applicants.
Whilst the future for Scottish culture was looking bleak, there was at least some hope that organisations that are unsuccessful in securing Multi-year Funding would have some time to remain operational, pivot their business model and potentially find an alternative way forward. With Creative Scotland's reserves now depleted, many unsuccessful organisations will soon vanish from the fabric of our cultural landscape, and with them, many creative opportunities and a significant part of our cultural identity as we know it today.
RFOs have been on stand-still funding since 2018. In the face of high inflation, rising interest rates, cost of living challenges, issues around staff retention and recruitment, the impact of Brexit, the legacy of Covid and a whole myriad of broader problems currently facing our sector, for Creative Scotland's budget cut to have been re-instated, the future of music and culture in Scotland is now at significant and immediate risk. The foundations upon which it supported are being eroded at an increasingly alarming rate, and unless intervention is made by the Scottish Government, it will have impacts for decades to come.
Outwith the significant economic contribution that music makes to Scotland's economy (£581m through music tourism alone in 2022, as noted in UK Music's 'Here, There And Everywhere' report – and this is only based on events with 1500+ capacity), it's important to remember that the value generated by the sector far extends an economic one. With the Scottish Government has stated that they're committed to building a well-being economy – which serves and prioritises the collective well-being of current and future generations – it's fundamental to highlight just how intrinsic music and culture are to achieving that vision.
Culture is our identity; it's how we see ourselves, how we see our place in the world and how we relate to others. It's the stories of life in Scotland, and it underpins mental well-being – both collectively and individually – in many different ways. The silences that echoed across 2020 as live music vanished from our lives serve as a firm reminder of this. Unless intervention is made now, we'll be lucky if there are whispers in the years to come.
We urge the Scottish Government to recognise the desperate situation of a vitally important sector; economically, socially and culturally. It's essential that Creative Scotland has the resources to both support and preserve it.
You can help directly by signing the Campaign For The Arts Petition against this move."
Robert Kilpatrick – Interim CEO and Creative Director
Scottish Music Industry Association (SMIA)