MMF Accelerator x SMIA – Opportunities for Funding – Online event this Friday (24/09) from 11am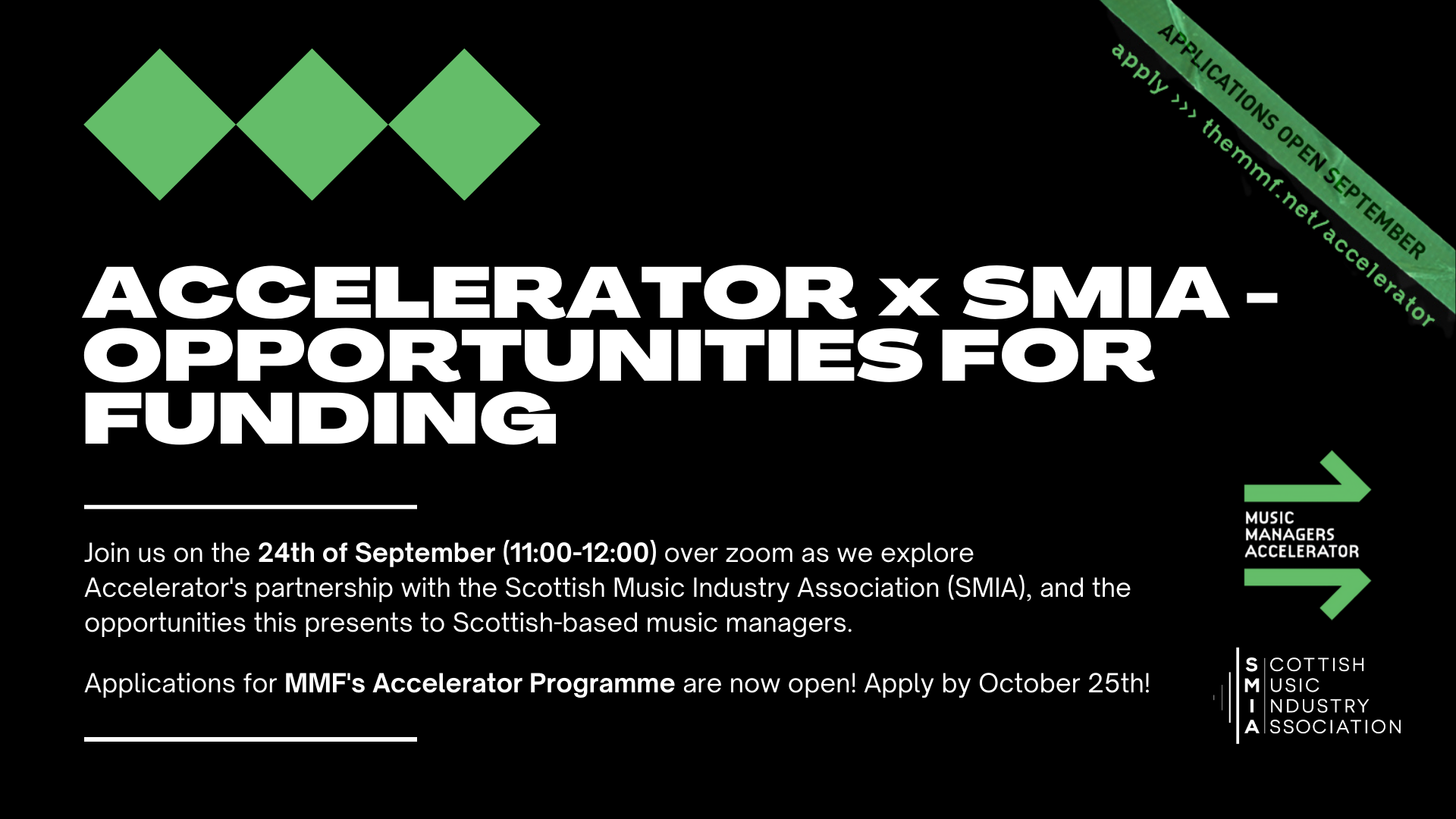 Join the SMIA and MMF this Friday (24 September) from 11am – midday for an online meet-up to learn about our partnership with the Music Manager Forum's (MMF) Accelerator Programme, and the opportunities this presents for artist and producer managers based in Scotland.
Register for the event via Zoom now: https://us02web.zoom.us/meeting/register/tZElcuyqpjwuGdI129FxoTNPqOicMl3-5sTA
Since it launched back in 2019, the SMIA has been a proud partner of the MMF Accelerator Programme; a ground-breaking grants and education programme with the goal of helping independent music managers develop long-term sustainable businesses. Recognising the increasingly pivotal role of the music manager and the need to access finance and skills development in a fast moving industry, the programme provides both financial and educational support, with 12-month grants of up to £15,000 alongside expert-led professional development.
Accelerator has supported 67 independent managers since 2019 and created a strong track record of success and sustainability. 2021's cohort represented more than 70 acts across all genres including Blinkie, Shygirl, Idlewild, Mirra May, Jaykae, Employed to Serve, Hamzaa and Porridge Radio. Accelerator alumni includes the managers of Joy Crookes, Wes Nelson, Nafe Smallz, Dry Cleaning, The Staves, Puma Blue, Michael Price, Moses Boyd and Joesef.
Friday's online event will see Denise Allan (677 Media Management) and Stephen Archibald (Jumping The Shark MGMT) reflect on their experience being part of Accelerator, joined by Paul Bonham (Accelerator Programme Manager) with Jason Edwards (Executive Director, SMIA) moderating the discussion. Attendees will gain key insights into the programme, as well as tips on applying for the 2022 programme which is now open for applications.
Applications for the MMF Accelerator Programme 2022 close on Monday 25 October. Learn more here: https://themmf.net/2022application/