SMIA Members Spotlight: Matt Brennan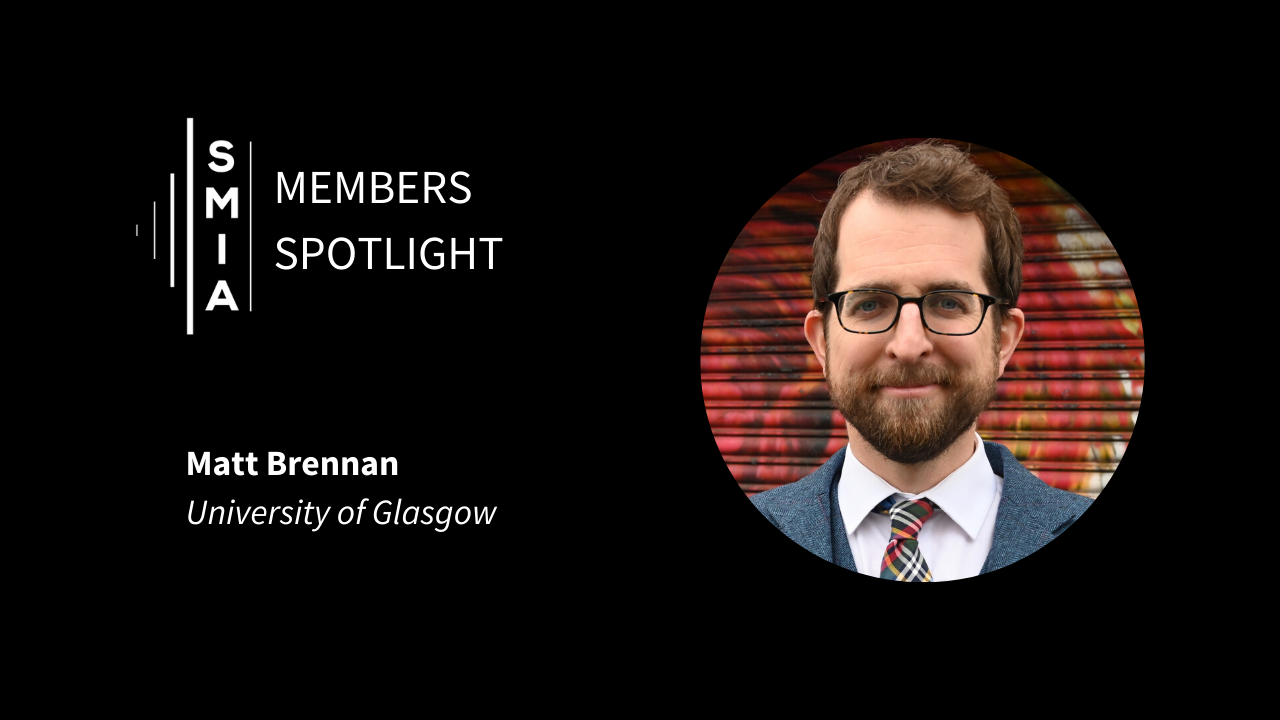 Tell us a bit about you and what you do…
I mainly do three things. First, I'm a music academic at the University of Glasgow, where I convene the postgraduate MSc Music Industries degree. Second, I write books about music, including Kick It: A Social History of the Drum Kit (Oxford University Press, 2020), and When Genres Collide (named as one of Pitchfork's favourite music books of 2017). Third, I'm a musician that records and performs music under the moniker Citizen Bravo.
2. How long have you been working in the music industry?
I've been a semi-professional musician since 2006, and a professional music academic since 2008.
3. What do you enjoy most about what you do?
Music gives me so much: it forms part of my identity, provides my life with meaning, healing, and vitality. It does this for others too: music is part of what makes us human. The most enjoyable part of my work is to participate in music – whether it's making music, teaching music, or researching music – in short, to be part of musical culture and support that culture where I can with others who share the same goals.
4. Who are some of the people you've worked with?
In terms of making music, the most significant collaborative project I've done in recent years was the "Return To Y'Hup: The World of Ivor Cutler" album released on Chemikal Underground earlier this year, along with a launch concert at Celtic Connections.
Loads of artists from across Scotland came together for this project, including core collaborators Raymond MacDonald, Malcolm Benzie, and Andy Monaghan, and guest artists including Megan Airlie, Diljeet Bhachu, Stuart Braithwaite (Mogwai), Tracyanne Campbell (Camera Obscura), Kris Drever (Lau), Future Pilot AKA, Zoe Graham, Sarah Hayes (Admiral Fallow / You Tell Me), Alex Kapranos (Franz Ferdinand), Phyllis King, Heather Leigh, Limelight Music, Jo Mango, Anna Miles, Stuart Murdoch (Belle & Sebastian), Pictish Trail, Emma Pollock (Delgados), Karine Polwart, Rick Redbeard (Phantom Band), Rachel Sermanni, Kapil Seshasayee, Adam Stafford, Duglas T. Stewart (BMX Bandits), Chris Thomson (Bathers), Russ Wimbish, Robert Wyatt and James Yorkston.
In terms of research, I've collaborated with Adam Behr, Martin Cloonan, Simon Frith, and Emma Webster, along with industry organizations like the Music Venue Trust, Musicians' Union, PRS for Music, UK Music, and the SMIA.
5. Where do you see you/your organisation in the next five years?
As an academic, writer, and musician, in five years time I would love to see a music industry and education sector flourishing from a just and green cultural recovery after the pandemic.
6. What's coming up for you?
My main task at the moment is to get to grips with adapting our MSc Music Industries degree to provide a high quality teaching and learning experience for students, including online tools for interactive teaching delivery, blended learning, and rethinking work-based learning amidst the uncertainty of the pandemic. 
7. What's the best thing about working in music in Scotland?
The fact that it's big enough to have a rich, vibrant and diverse musical culture, but small enough where you actually get to know the people who make that culture happen.
8. What do you feel Scotland's music industry needs to excel?
Scotland has a plenty of talented, passionate, and hard-working people working in music. What it needs is support for a musical infrastructure that is currently under severe threat: music venues, recording studios, rehearsal rooms, classrooms, and other spaces for musical activity need to still be around in a year's time in order for Scotland's musical culture to continue to thrive.
That said, there are interesting business models coming into their own in the pandemic: Bandcamp, Patreon, livestreaming, and artists who are finding innovative ways to make the most of these technologies. Maybe a Scottish artist or music entrepreneur will find a way of navigating the current uncertainty in an imaginative way that others can follow.