SMIA Members Spotlight: Kerr Wilson (CreamFloats)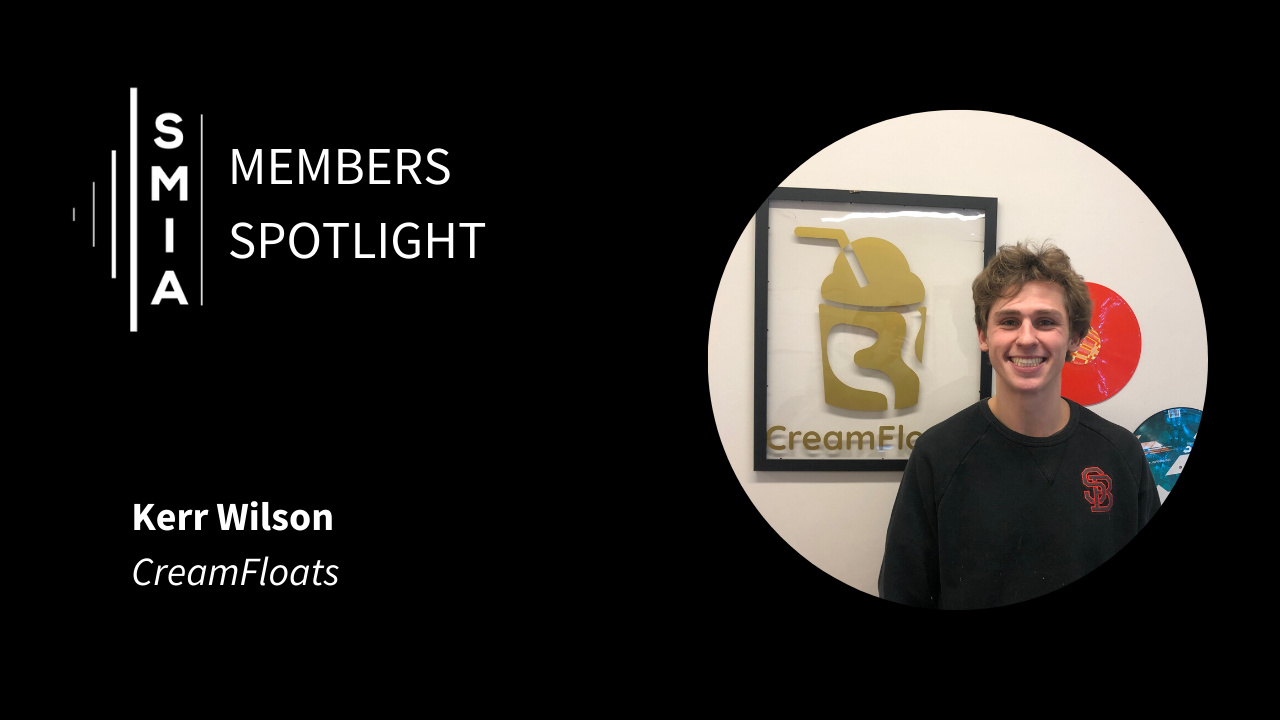 Tell us a bit about you and what you do…
Hello! My name is Kerr Wilson and I am the founder of CreamFloats – a music-tech start-up based in Edinburgh.
We have
identified the disjointed nature of finding and discovering music via YouTube –
the biggest music distributor online.
We've
all been there, finding an amazing band's music video/live session but with no
way to stream or buy the audio. Most likely the live session isn't available as
a separate audio to stream offline anyway! What if you want to see where they
are playing next, and keep up to date when they release new music? Maybe you
want to find out what they as a band listen to?
This
customer journey is a mess, resulting in a loss of value for both the artist
and listener.
CreamFloats
has therefore created a video hosting website dedicated to music; where
users can explore music videos/live video sessions, buy the song directly from
the video page, follow artists for content releases/shares, and find their
upcoming gigs!
And
it's working! We currently have over 1000 bands (and counting) uploading around
the world.
Oh, and
we pay artists over 80% of all song sales too!!
As for my job, like all start-up founders, you need to wear lots of hats! So this year I've been involved in the research and development of our website and mobile app, while also engaging in partnerships, funding, legals, events and marketing.
2. How long have you been working in the music industry?
CreamFloats has been my first venture in the music industry and we started in 2017, so coming up for 3 amazing years!
3. What do you enjoy most about what you do?
My
vision (and the direction of CreamFloats) is to fix the imbalance in the music
industry where labels dominate, artists get paid very little for digital
releases, and listeners don't have a direct channel to find new music.
Even today I read that "more than 99
percent of audio streaming is of the top 10 percent most-streamed tracks".
Which means less than 1 percent of streams account for all other music.
At CreamFloats we have the answer to reduce the hierarchical dominance stifling undiscovered music, and effectively unlock the doors for up and coming artists. Every small victory toward pursuing this vision feels pretty satisfying!
4. Who are some of the people you've worked with?
In a
business sense, we have worked closely with Scottish Enterprise who have been
amazing in terms of providing business advice and funding.
This
funding has allowed us to build an amazing development team including Chris
Milligan, Sean Paterson and James Henderson. We also have Ross Murray as our
head of marketing and Sheena Mulligan helping with events.
We do a lot of work with Temmy at OnRed Productions who do all our video content – if you need a music video made, he is your guy!
And some of the bands we have worked with and currently on CreamFloats (you definitely need to check them all out) are: LaKyoto, Corto.alto, Jumanji, Go to Girl, Logan's Close, Indigo Velvet, Mt Doubt, ACRYLIC, Angus Maxwell, The 101, Bubbatrees, and Amy Lou.
5. Where do you see you/your organisation in the next five years?
In an ideal world I see CreamFloats growing into an international platform helping people explore and support new music; both online and attending gigs.
6. What's coming up for CreamFloats?
We have some exciting partnerships in the pipeline! One being a YouTube channel with ~1m subscribers – a real game-changer going into 2020. Our development team are also working on some functionality (driven by blockchain) that will bring listeners closer to music – more than we are already doing.
Our marketing/events team are focussing on our mobile app launch which is looking like it will be in February next year – this will be a big one so keep your eyes peeled for updates!
7. What's the best thing about working in music in Scotland?
Working
in the music industry is amazing in general, and Scotland is full of cool
people with unbelievable talent.
It's also great to work with bands and individuals that understand our mission and get involved, whether is it signing up to the platform or coming into the office for a session. That makes it all worthwhile.
8. What do you feel Scotland's music industry needs to excel?
This is a super tough question… Scotland has so many amazing support networks for artists and organisations to get help in any area. I really couldn't think of another country that would be better suited for CreamFloats' HQ.
While streaming continues to devalue content and make music disposable, industry leaders need to be searching for new solutions that will challenge this movement. CreamFloats is a platform coming out of Scotland that is giving the big guns a real run for their money. I'm hoping people can get behind this movement as we continue to grow in the future.