SMIA Members Spotlight: Jessica Harrison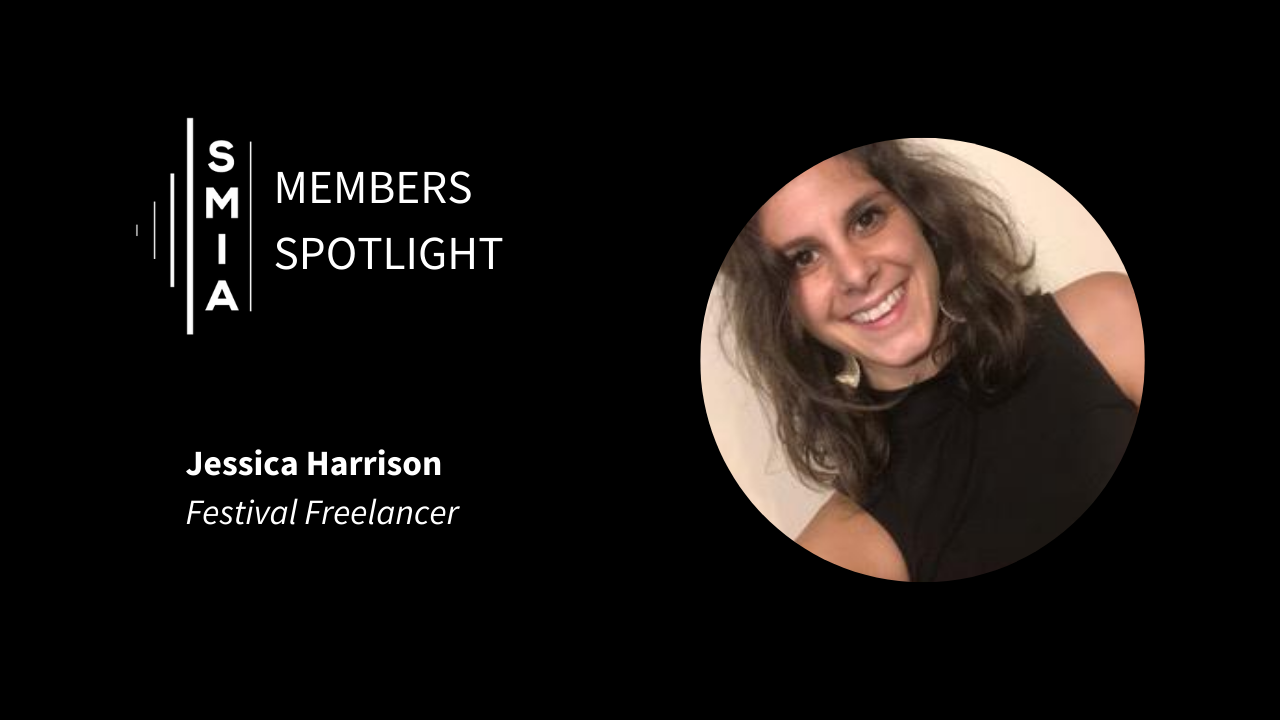 1. Tell us a bit about you and what you do…
Hello! Jess here – I'm a festival freelancer who brings the concept of customer service back of house – think 'creative problem solving with a smile'. Whether I'm running site office comms and a vendor needs power, or artist liaison and the artist needs organic coconut water NOW, I'm your gal.
I learnt to be both professional and friendly during my time as Entertainment Coordinator at Crieff Hydro for 3 years, which served me well in my first festival job as a Customer Service Manager for Glastonbury's Worthy View campsite. Campsite management followed neatly.
In 2015 I made the jump to Production where I joined the amazing team at Bluesfest Byron Bay in Australia. As well as advancing the festival itself, Bluesfest Touring produces shows all over Australia. Learning from a tiny team who are very experienced, bloody lovely and who love what they do was incredibly inspiring.
For the last 6 years I've lived between Scotland and Australia working within the music festival industry full time, specialising in Production, Artist Liaison, Site Office & Operations.
2. How long have you been working in the music industry?
Since 2014, I've worked on shows with capacities ranging from 1500 to 70,000 and have done everything from cleaning toilets and showers, to advancing shows for International artists on a world stage.
3. What do you enjoy most about what you do?
There is no better feeling than seeing people experiencing live music. It is some kind of magic. Knowing I've played a role in bringing that joy to people is pretty special. It's great to work behind the scenes, so many unsung hero's are involved in making festivals happen beyond what people see front of house. It really does take a village and with that comes a great sense of community
4. Who are some of the people you've worked with?
After Glastonbury I went on to be Assistant Campsite Manager for APL & Pink Moon Camping, working Reading, Latitude, T in the Park, Electric Picnic and the Rewind 80s Festivals. We'd have anywhere between 300 – 10,000 people in our care at those campsites. An interesting introduction to big players in the industry.
I've been lucky enough to work with some really incredible people who I admire, from Vicki Smith (APL) at Bestival and Camp Bestival, a masterclass in juggling creative client vision with site & project management, to the world class production and artist liaison team behind Bluesfest.
In Scotland I've been the Box Office Manager for Kelburn Garden Party for the past 3 years and was also involved with Doune The Rabbit Hole in accreditation, the festival office, artist liaison and production from 2017 – 2019. Jumping from the bigger productions to more grassroots events definitely brought it's challenges but has also been a huge source of inspiration as I've seen there is the ability to be creative at a community level, not just with music but introducing cabaret, comedy, politics, education and more.
In terms of musicians I've been lucky enough to work with both homegrown talent and international artists.
5. Where do you see you/your organisation in the next five years?
My long term goal is to build a successful festival with sustainability and community at it's heart, showcasing a mix of local and international talent. To bring together everything I've learnt along the way. To that end I'll continue participating in workshops and training. Even training that doesn't directly relate to my role, it's so important to understand and respect the challenges that industry colleagues face. I want to explore creatively producing shows in more rural parts of Scotland to provide more of a stepping stone between local gigs and arena shows.
Coming out of this pandemic I think people will have a reignited appreciation for the arts and I truly hope that not only the public but also the government gets behind the industry in a tangible way.
6. What's coming up for you?
Bizarrely I'd chosen this summer to take some time off and travel, before looking to re-join the industry and really settling into my career long term. Great timing Jess…
As I'm sure many freelancers can relate, this pandemic has really wiped out my calendar. (Quick love letter to freelancers – it's ok to have good days, it's ok to have bad days, you are not alone and we will get through this)
While it's wonderful that artists (musical or otherwise) are still able to connect directly with their audience, I hope everyone is itching to get back into muddy fields as much as I am!
The next festival I have lined up is Bluesfest in 2021 and until then I'm working on Kelburn Garden Party's Green Team, using a framework from Julies Bicycle to ensure we can be as environmentally sustainable as possible. This week we took an initial (distanced!) site visit to the recycling plant we use to follow the journey of Kelburn trash.
I'm lucky to be able to take this time to plan big, reflect and identify where I need to grow.
7. What's the best thing about working in music in Scotland?
I wish so badly I could say the weather! For me the folk roots shine through and the sense of community is unmatched.
Working and living on festival sites you quickly become close with those around you so I have to say the people. Although that's true of every festival I've worked on, there's a real buzz in Scotland, where the landscape is a spectacular backdrop and it feels like the whole country is putting on a show.
8. What do you feel Scotland's music industry needs to excel?
In terms of festivals this is an interesting question – Independent festivals in Scotland can take the place of medium sized venues on a bands tour run which creates an interesting dynamic that's pretty unique. I hope we foster that in a healthy and encouraging way.
Of course environmental sustainability, access and diversity should permanently be high on the priority list and there is always room for improvement.
Finally, I echo what Rosie Bans said in a previous spotlight about the need to nurture talent both on and off stage to avoid people being lured to London in search for their big break.
We have an opportunity to lead the way and even reverse that pattern and I hope we take our chance.