SMIA Members Spotlight: Hamish Fingland (Kingdom Management)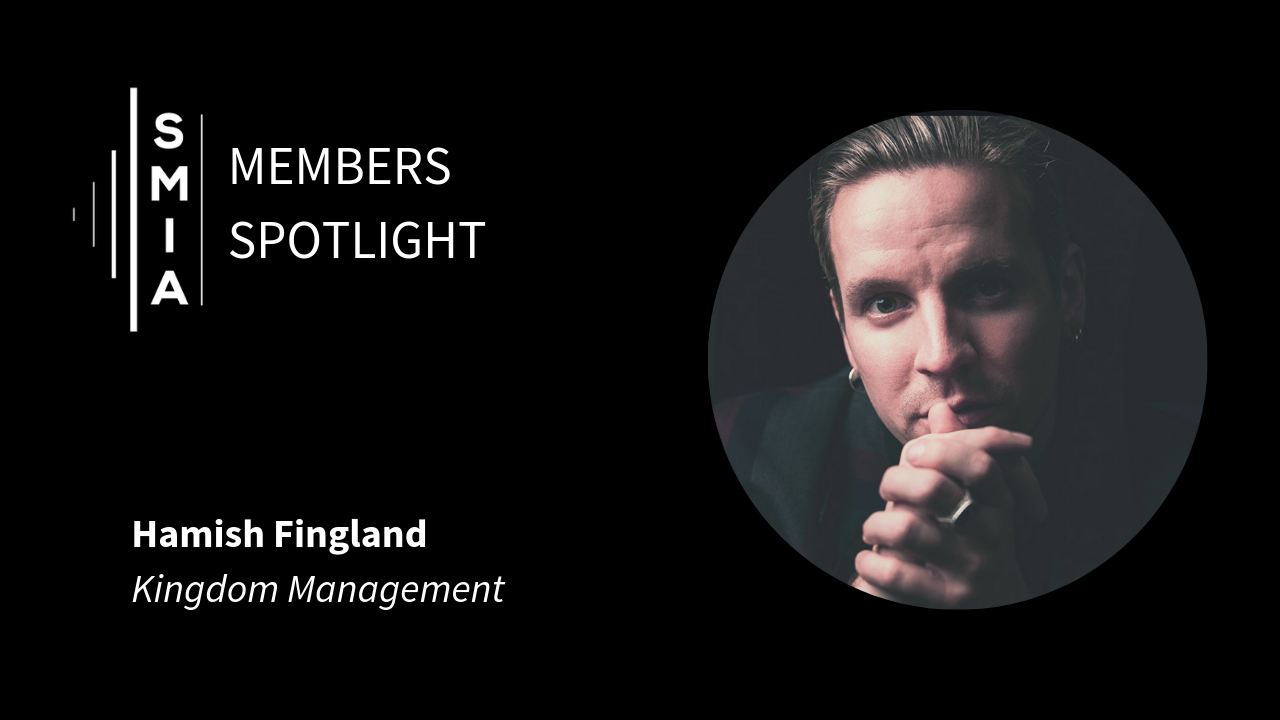 Tell us a bit about you and what you do…
I work as an Artist Manager at Kingdom Management where I look after The Ninth Wave, LUCIA, Walt Disco and a new band from Edinburgh called Medicine Cabinet. I come from a band background having previously played in a number of bands, released a few records and toured in the UK, Europe and America. Myself and Scott Kirkwood, who has worked with Lewis Capaldi and Catholic Action as well as new artists such as Aaron Smith and Rory James, and has also worked at labels including Columbia Records, came together to make Kingdom a couple of years ago after realising the different sides we come from in music complimented each other well. I write music with artists on the side too.
2. How long have you been working in the music industry?
I've worked in music for 12 years now. I'm extremely lucky that my band got signed when I was 19 and I've been in the industry since then.
3. What do you enjoy most about what you do?
I find it incredible watching the bands grow and develop confidence. I try to encourage them to be 150% of what they want to be. Sometimes they are going through the same feelings I've felt in the past for example playing a legendary venue or selling out their first show and it's amazing being able to share that feeling with them knowing what they are going through.
4. Who are some of the people you've worked with?
I worked closely in the past with G.R. Management who helped me find my path. I worked with Mercury Records, Sony RCA Records and Sony ATV Publishing on my own releases. I work closely with an excellent producer called Dan Austin on all The Ninth Wave material. Day to day I work with Sony Records on LUCIA who has a new EP recorded and imminent. Walt Disco have worked with Chris McCrory a lot who is a brilliant Scottish producer best know for fronting Catholic Action.
5. Where do you see you/your organisation in the next five years?
We should have a decent body of staff who we will be training up to become managers in their own right. We will have a great roster of artists who will love what they do and support themselves through music. We also plan to open offices in London and LA .
6. What's coming up for Kingdom Management?
The Ninth Wave will be releasing their debut album INFANCY in November along with a UK Tour and a showcase in Prague, Lucia has her new EP coming out, Walt Disco have a single coming out through Holm Front Records along with a UK Tour and shows in Prague and Paris. Aaron Smith has his highly anticipated debut EP out in September following the first single having a huge impact of 2 million streams in a week on Spotify.
7. What's the best thing about working in music in Scotland?
Having been in amongst music in Scotland for a while, I think now more than ever the energy between people in the Scottish industry is extremely strong. I think people are very open to help you and share their ideas. Bands support each others music, write together and take each other on tour. More and more I hear people down South talking about how Scottish music is far more exciting than what is going on down there and you only have to look at the buzz and also the variation in styles we are have with new bands like Joesef, Wuh Oh, Aaron Smith and all the others I'll definitely have missed to see that it's true.
8. What do you feel Scotland's music industry needs to excel?
Just keep going, supporting each other and keep delivering. I really feel like we are currently in a very important time for Scottish music.