 INTRODUCING: THE SMIA SUMMIT
Throughout June, the SMIA is hosting a series of free-to-attend online events; exclusively for SMIA members.
The programme of events focus on the topics covered by our recent and forthcoming research topics – Brexit and music export – culminating in the SMIA Members' Summit on June 24th. We'll also take a moment to learn from Scottish artists and their teams who have achieved incredible results in the UK Official Album Charts.
Registration for each of the #SMIASummit events is now open below for SMIA members. If you're not yet a member of the SMIA, you can join now – for free – to gain access.
Brexit: Impacts on Scotland's Music Industry
Tuesday 8 June 2021 | 16:00 - 18:00
Jonny Tait (BTO Solicitors), Lisa Whytock (Active Events) and Richard Chater (Rubadub/Numbers) join us to talk about their experiences dealing with the impacts of Brexit on different areas of Scotland's music industry. We'll discuss how to mitigate ongoing effects, as well as look ahead to possible long-term solutions. We also want to hear from Summit attendees as to how Brexit has impacted you, and any questions or concerns you have.
Thursday 10 June 2021 | 16:00 - 18:00
Join the writer and researcher of our Brexit study, 'Moving Forward', Tim Wright on a roundtable discussion as we discuss some possible mitigations to the impacts of Brexit for Scotland's music industry. Should there be a backline and equipment hub for Scottish musicians available in Europe? Does Scotland need its own music streaming service? Could Scotland have its own vinyl pressing plant? We want to hear your thoughts on these topics, as well as ideas you have, or projects you may be working on, so as a community we can move forward and allow our industry to flourish.
This meeting is open to all SMIA members. There will be no pressure to contribute, and the meeting will be hosted under Chatham House Rules, meaning that any notes documented shall not be personally attributable.
Music Export Offices: Models for Scotland in partnership with EMEE
Monday 14 June 2021 | 16:00 - 18:00
As we conclude our Scottish Music Export Office Feasibility Study, we are pleased to welcome representatives from the European Music Exporters' Exchange. This unique panel will present a vision for the future of Scottish music export, whereby different models will be outlined and discussed to inform how an export office for Scotland could take shape.
Showcasing Scotland's Chart Success in association with Born to Be Wide
Tuesday 22 June 2021 | 16:00 - 18:00
Scottish artists have dominated the UK charts this year. With two Scottish artists, Mogwai and The Snuts, topping the UK Official Album Chart in quick succession, Born to Be Wide present a panel featuring influential members of each artist's campaign to discuss what it takes to have commercial success, from two very different career stages, in 2021.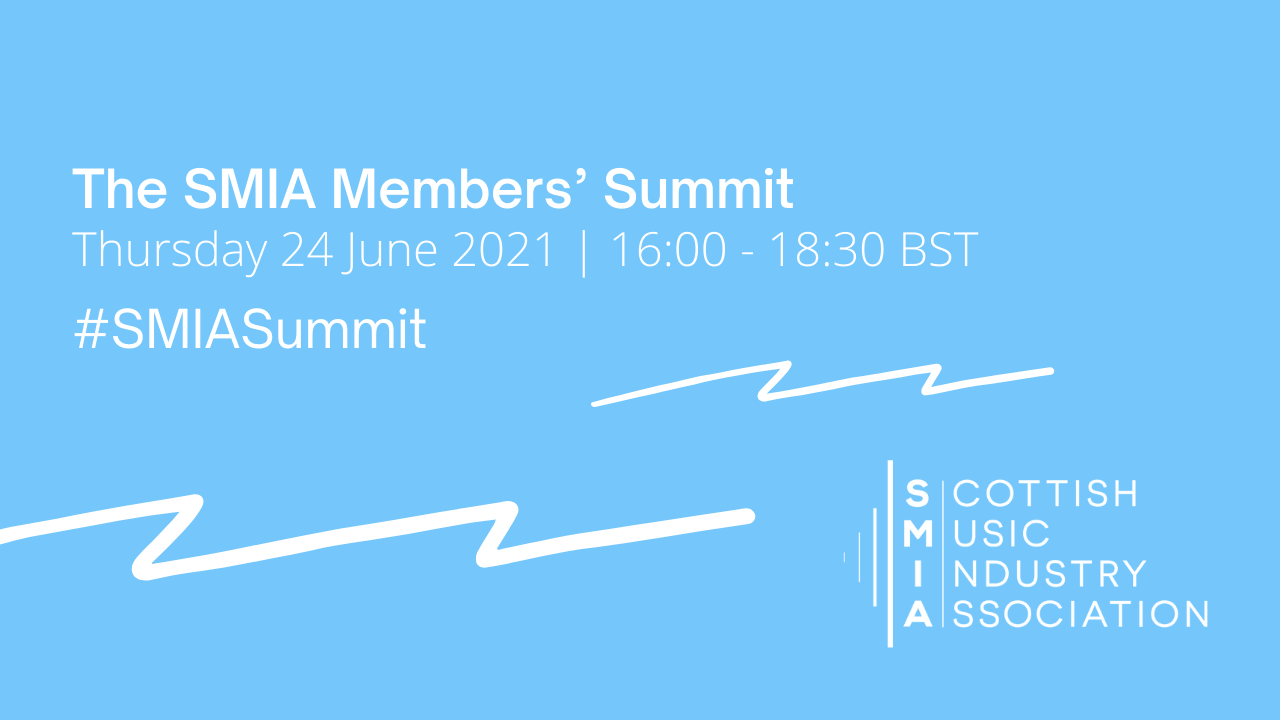 Thursday 24 June 2021 | 16:00 - 18:30
For the first time ever, we would like to invite all SMIA members to look at the year ahead for the SMIA and reflect on the year that's been. This is an opportunity to both get a look into the SMIA's activity roadmap for 2021, and to contribute to our future work. We want to hear from you about the most pressing issues in your sector, as well as areas you'd like to see the SMIA focus our research activity in the year ahead.