SMIA Members Spotlight: Stephen A. Watkins (SAW)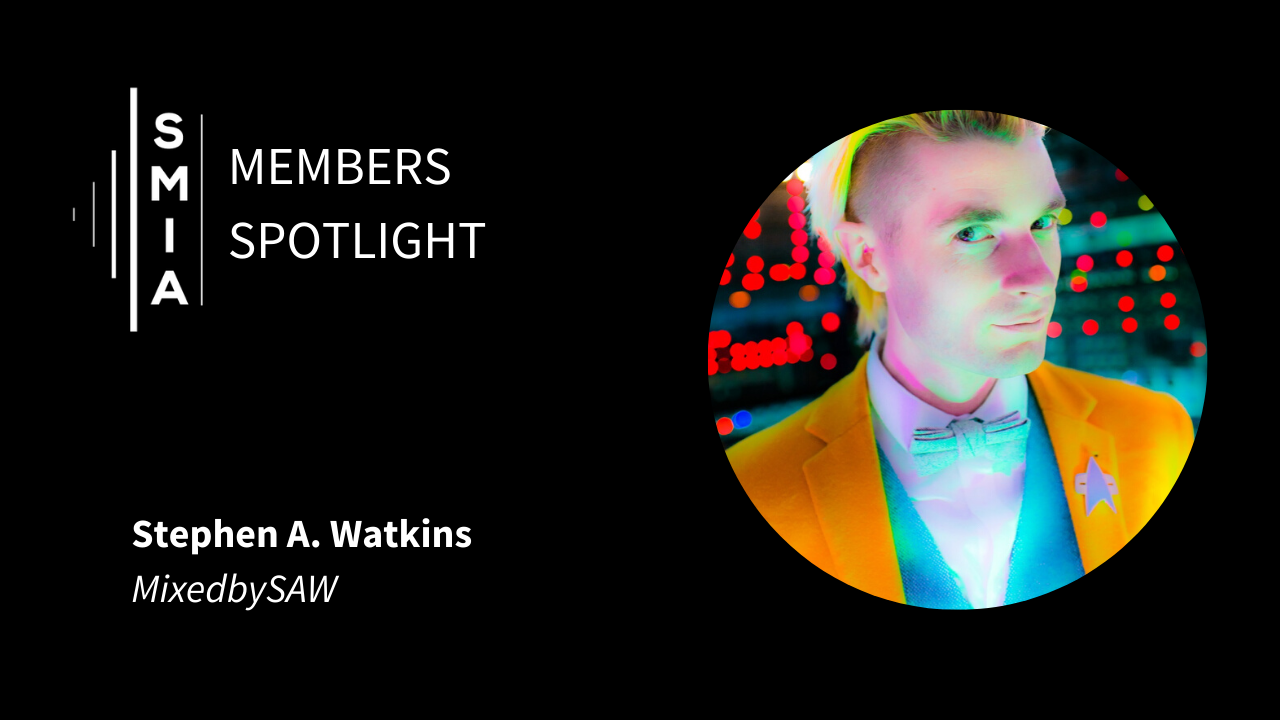 Tell us a bit about you and what you do…
I am a specialist ALT. POP. Record Producer & Mixer. Artists and their managers hire me to send their music into space. You can usually find me hunchbacked over a mixing console and blowing something up in the various rooms in town – or working down here in the borders at my Production studio which is based inside a beautiful old Chapel with acoustics to die for. The old bell tower is wired up as a natural echo chamber! Mostly I live to make records sound otherworldly.
2. How long have you been working in the music industry?
At the time of writing, nearly 19 years! Wow – never actually added that up until now. I started off as a kid in the very early 2000's working at the old Chamber Studio in Edinburgh under Producer Jamie Watson. Many many great records were made at that studio by bands such as Snow Patrol, Mogwai and the Vaselines. Chamber was unique at that time as it was operating entirely with old analog equipment – not a computer in sight and based around a 1970's era setup of 2 x 24 track tape machines, a vintage console and a bunch of random outboard equipment.
It was just the most amazing education I could have ever hoped for. A Baptism of fire…
3. What do you enjoy most about what you do?
Some of the things I like:
Bending the fabric of space time with weird studio devices from the past.
Meeting and working with so many unbelievably talented people and the mutual respect and admiration that comes with it. I have a work ethic from hell and if you match me as an artist there is nothing better. We leave when it is finished!
Developing artists and that proud feeling you get when you look back at the career arc of people you were in the sonic trenches with.
Transforming a beige song that was recorded elsewhere into an insane radio destroying single mix. The best!
4. Who are some of the people you've worked with?
I have made records with:
Echo Machine,
Carla J.Easton,
Paws,
Broken Records,
Jared Celosse,
Amanda Palmer,
SolarEye,
TeenCanteen,
Man Of The Minch,
Ava Love,
Neon Seas,
aaaand Stanley Odd to randomly name a few!
5. Where do you see you/your organisation in the next five years?
I have actually been toying with the idea of building a crazy upcycled production studio from old linked up shipping containers… Something odd and interesting with a residential wing in it for the right bands to escape to in a field somewhere… I should probably apply for funding for that, huh!
Otherwise hopefully still doing exactly what I get to do now – working with amazing bands to make magic happen. Wherever their budget may take me!
6. What's coming up this year for you?
Right now I am Producing the new Carla J Easton LP in Glasgow. It is absolutely amazing and I cannot wait for people to hear it. I think 2020 is going to be her year for sure. We have already had lots of super talented guests here hanging out and joining in including Stina from Honeyblood, Dave Hook aka SolarEye, Scott from Sons and Daughters and Eugene from the Vaselines to name a few. It is SUPER POP and an absolute delight to work with them all on. I am also about to kick off a new set of Pop Up Winter Studio session slots down at my Production space in the borders.
I love doing these. The idea behind the Pop Up Studio is simple: To let amazing bands who normally couldn't afford my book rate get into the room with me! To apply all I ask is:
You send me a link to your music
Tell me your budget
If it feels like a good match – it is on!
8. What's the best thing about working in music in Scotland?
That is easy: Being consistently blown away by the talent. The sheer quality and level of writing I am being exposed to at the moment is incredible.
9. What do you feel Scotland's music industry needs to excel?
I would love to see the whole thing become a little more buoyant. More sustainable. A pet peeve of mine: I do wish Scottish artists who are granted significant funding for album projects would STOP leaving this country to make records elsewhere. It seems ethically weird to me on some level that you would ask for Scottish music funding and then make your record in England or America. Maybe not every artist is aware of this BUT there are plenty of next-level world-class producers and facilities right here on your doorstep… Obviously I would say that though… haha.