SMIA Members Spotlight: Rachel Jack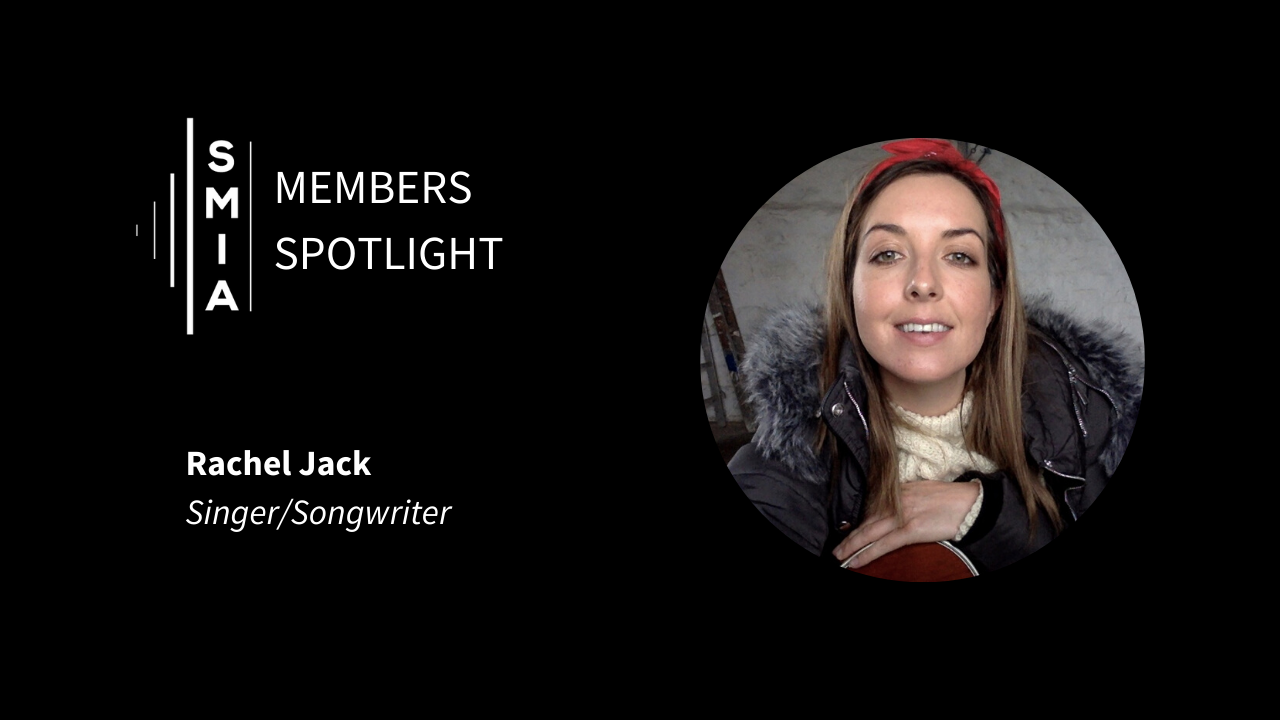 Tell us a bit about you and what you do… 
My name is Rachel Jack, and I'm from Aberdeenshire. I wear a few hats, including self-releasing, singer/songwriter, Community Manager for independent musicians network 'The Virtual Manager', and Operations Manager for an arts trust (non-music related).
2. How long have you been working in the music industry? 
I'm very new to the music industry. I took a break from a twelve-year, full-time career almost three years ago, and spent eight months travelling before hearing about the Paolo Nutini Songwriting Scholarship opportunity at UWS, which I was awarded in August 2018. I completed the MA in August 2019, and the EP I'm in the process of releasing (The Calgary Tapes) is a collection of five songs I submitted as part of my year-end project.
3. What do you enjoy most about what you do? 
I love writing the most. Since my teen years, I've used journaling as an outlet for processing what's on my mind. I wrote my first song by mistake as the words I wrote rhymed, and it's something I've just continued to do. It's such a cliche to say that writing is therapy, but it really is. By the time a song gets to the point of recording, the subject feels a lot less of a problem.
4. Who are some of the people you've worked with? 
When I enrolled on the course, I was so scared of singing in public. Rab Allan mentored me throughout that period while also accompanying me on guitar. I've co-written with and recorded BV's for Jim Mculloch, and in addition to teaming up for several briefs, classmate Samson (producer DUNT) and I, have co-written my second EP, 'Magazine Girls' which is recorded and mixed by SAW. 'The Calgary Tapes' was recorded in Antobar Studios in Mull, by Gordon McLean with Sam Hird on BV's.
I've been a member of 'The Virtual Manager' for a while now. In addition to becoming the Community Manager there, I recently started working with founder Anna Russell on a 1-2-1 basis. She's kept me right throughout the process of self-releasing and I'm really excited to watch that community grow.
5. Where do you see you/your organisation in the next five years? 
I'm only just getting started, but I hope that in 5 years, songwriting will play a bigger role in my life. The most important thing to me is that I work with people with shared values. I intend to keep writing, collaborating and releasing music, in the hope that by doing so, I'll find more of my people, and I'll be ready for the next opportunity when it arises.
6. What's coming up for you? 
I naively set out to release a song-a-month during 2020, but after realising the amount of admin associated with doing so, I'm scaling that back to 2 EP's this year. I'm in the process of releasing a single each month from 'The Calgary Tapes' which is out July 20th. Magazine Girls the single will be out mid-October followed by the EP in mid-November. 
7. What's the best thing about working in music in Scotland? 
I've worked in several industries, and as a newcomer to Scottish music, I can't believe how many events there are to support independent artists where people are giving away their secrets, often for free. SMIA, SAMA, SWIM, XPONorth, Resonate, and Wide Days are just some of the organisations I've learned a wealth of info from while meeting some lovely people in the process. I'm also super grateful for people I've never met getting behind my releases, playing my tunes on the radio, writing reviews etc. That sort of support keeps you going when you are a team of one.  
8. What do you feel Scotland's music industry needs to excel? 
I've only been a part of the industry for a couple of years, so I don't feel embedded enough to comment on what it needs… I'll come back to you on that one in a couple of years! 🙂