SMIA Members Spotlight: Hilary Brooks (SWIM)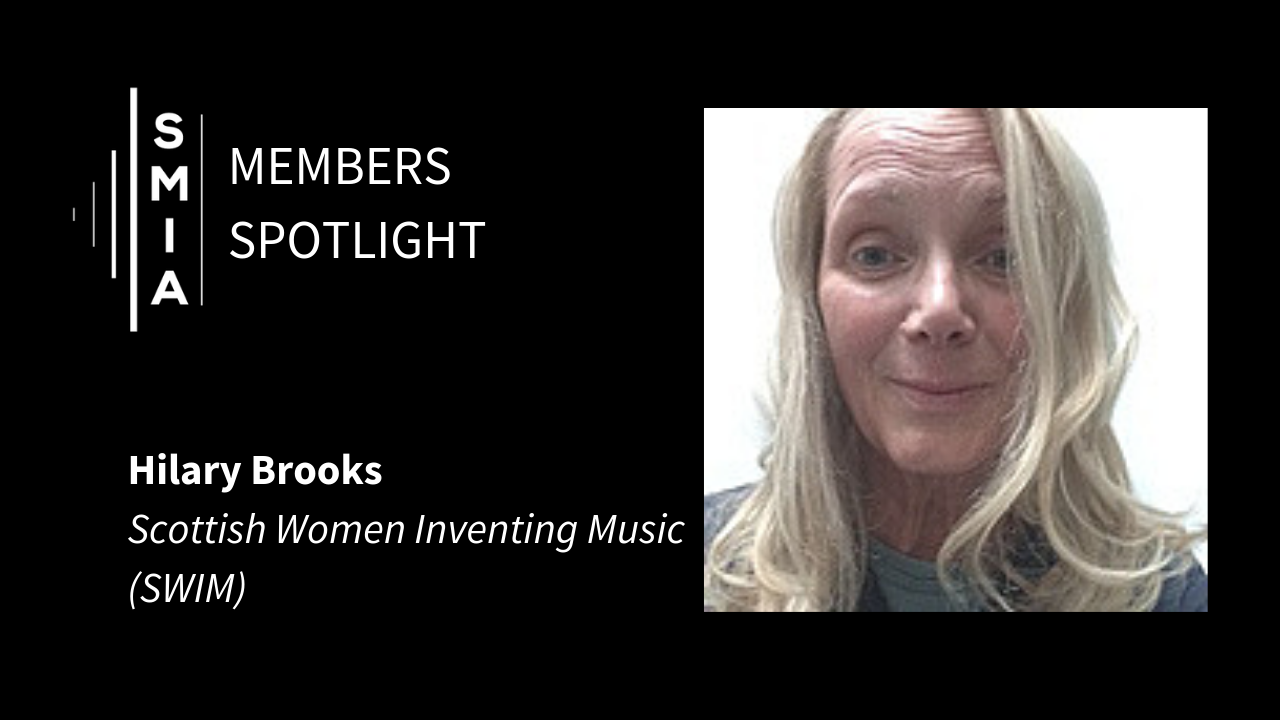 Tell us a bit about you and what you do…
I am a freelance musical director, arranger and composer working mainly in theatre and I've played a lot of gigs as a pianist too. As a youngster I played music by ear and read notation, playing a lot of instruments because I was curious about how they worked, I guess.
My mum loved classical music, my Dad blues, jazz and folk, so naturally, I developed eclectic tastes early on. I studied music at the old RSAMD, now the Royal Conservatoire of Scotland, where I now mentor students on the Musical Director MA Musical Theatre course and play as répétiteur. In March 2017 I founded the network SWIM to support women in the music industry.
2. How long have you been working in the music industry?
A long time, decades darling.
3. What do you enjoy most about what you do?
In theatre, I enjoy collaborating with experts from other disciplines and telling stories together, which I find really stimulating. As the musical director & arranger or composer for a theatre production I'm often involved from the very beginning of an idea; from creating musical underscore or soundscapes for plays to writing or reimagining and conducting a classic large-scale musical score. Larger scale examples include the responsibility for the scores of the original popular musical productions Sunshine On Leith and The Glasgow Girls. Recent chamber shows include the hugely successful Edinburgh Fringe & Oran Mor hit, Doris & Dolly & the Dressing Room Divas.
4. Who are some of the people you've worked with?
Musicians include:Michael Marra, Davy Paton, Ewen Vernal, Emma Pollock, Rab Noakes, Barbara Dickson, Roddy Hart, Carol Laula, Carol Kidd, Nigel Clark, Seonaid Aitken.
From theatre:the giants of light entertainment Dorothy Paul, Gerard Kelly, Elaine C Smith, Christopher Biggins, Gavin Mitchell, Grant Scott, Una McLean and Karen Dunbar.
From TV & film: Chris Forbes (Scot Squad), Ron Donnachie (Game of Thrones), Douglas Henshall (Shetland), Billy Boyd (Lord of the Rings), Jonathon Watson and Alex Norton (Two Doors Down), Siobhan Redmond & Forbes Masson (The High Life), Dave Anderson (City Lights), Ann-Louise Ross & Gail Watson (Katie-Flora) and Frances Thorburn, Jenny Hulse, Barbara Rafferty and Scott Fletcher (River City).
5. Where do you see you/your organisation in the next five years?
Personally, I hope to continue my freelance endeavors, exploring all opportunities that come my way as an MD, writer and performer. I have had a show in development for more than five years that I'd like to see on stage before I die!
From the point of view of SWIM I hope that in five years time all festivals will have followed through with the Keychange International pledge for 50:50 gender equality on stage by 2022 and will continue to address inequality across the industry, onstage & behind the scenes and that SWIM will remain a vital network in supporting issues uniquely faced by women in music in ever changing times.
6. What's coming up for SWIM?
We are delighted to have been awarded SCIO charitable status this month so we are busy behind the scenes formalizing the SWIM structure to help us achieve our aims. These aims include being a network for our members, to educate and inform on women's abilities across the music industry and to advocate for increased visibility of women in music.
We are hoping to increase our reach Scotland-wide with a presence at a number of music conferences and festivals this year.
Our next member meeting is on June 8th and if anyone would like to become a member please click here –https://www.scottishwomeninventingmusic.com/joinus
We are also planning a pilot workshop project on gender equality initially involving schools & educational institutions in Glasgow, to be rolled out nationally in time.
We will be celebrating our membership with a public annual event every March.
7. What's the best thing about working in music in Scotland?
Scotland is full to bursting with talent; folk dedicated to expressing themselves and ready to team up to achieve new products. The industry is wonderfully eclectic and full of exciting opportunities if you know where to look and with a lot of luck on your side!
I've met my two closest longtime collaborators here.
With the Scottish composer Karen MacIver we produced PianoPiano – a composition and performance project for two grand pianos. The lyricist and book writer Clive King and I are a song-writing team and great pals, who have also written a number of musical theatre productions together.
8. What do you feel Scotland's music industry needs to excel?
The industry will excel when it reflects fairly the makeup of the people of our country, especially within the arts. Having the confidence to go for it, take risks and own success and mistakes equally is important for growth. A willingness to share information through cooperation and collaboration and a driving political commitment may help to ensure that every child has access to music in education and every adult can better fulfill their creative potential.
Music is a universal feature of the human experience, so let's celebrate it!