SMIA Members Spotlight: David Blair (Barrowland Ballroom)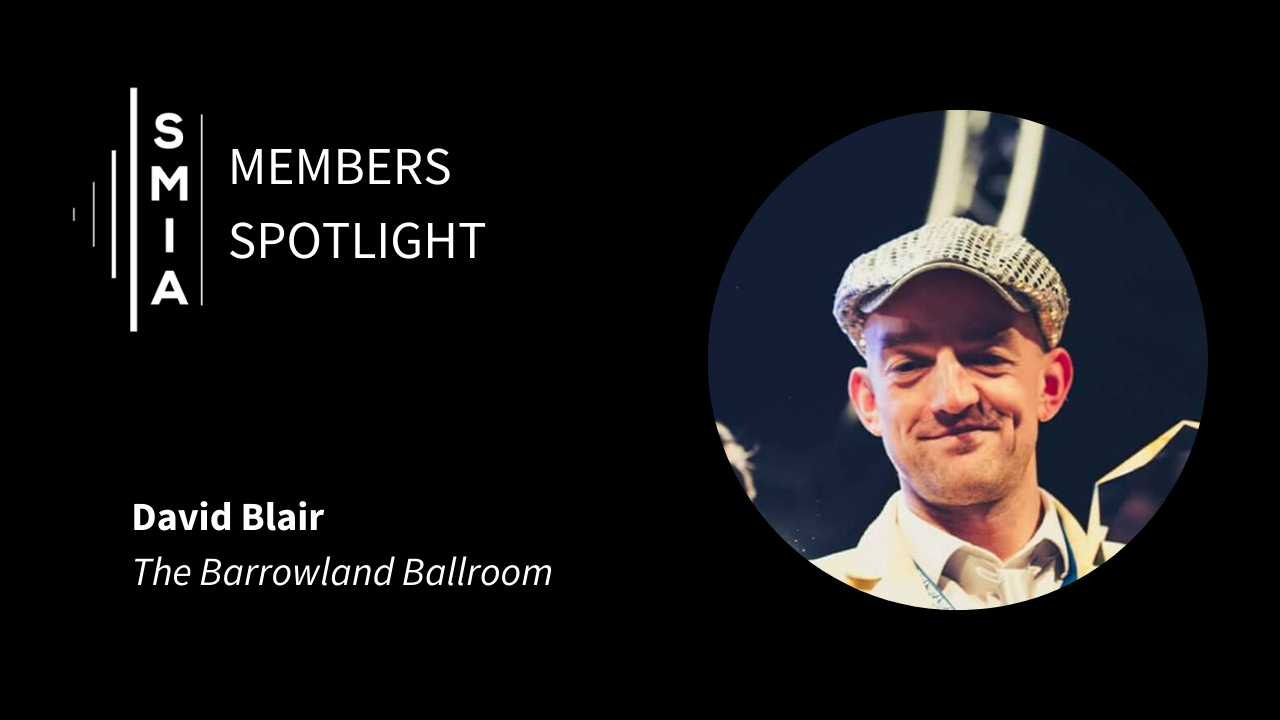 Tell us a bit about you and what you do… 
Hello SMIA! I work as Market & Ballroom Assistant at The Barras Market and Barrowland Ballroom. Handily my favourite music venue in the world so it's a real dream job! I'm basically hands-on with everything to do with running and maintaining the market and venue. Along with helping out with our branding, events management, social media and merchandising. The Barras Market is 100 years old next year so we've got plans for how we would like to recognise and celebrate that significant milestone for one of the most famous markets in the world. I also play in and co-manage Colonel Mustard & The Dijon 5 and have an artist/band roster that I manage of John Rush (amazing acoustic singer-songwriter) and The Rain Experiment (outstanding young indie/alt-rock band) via my 23 Music Management startup. I also organise and curate weekly BAaD Sunday Sessions (acoustic gigs and open mic) in Barras Art and Design and promote gigs in new city centre live music venue Room 2 via my 23 Promotions company with my partner in that, Andy Anderson.
2. How long have you been working in the music industry?
I suppose I've been serving my "apprenticeship" in all things music-related since I first developed a love for music as a child. I joined CM&TD5 onstage for the first time in 2012 and have stayed involved with them since then. I started working in The Barras on 23rd of December 2019.
3. What do you enjoy most about what you do?
Creating and being involved in my number one
passion in life; music. From project managing an idea through to completion
and, when that involves live music, bringing people together to be happy, have
fun and enjoy great live music it's a beautiful thing to be involved in.
4. Who are some of the people you've worked with? 
Now THAT would be a very long list! My top three Weegies that I've worked with would be Colonel John Thomas McMustard AKA John McAlinden. We've been pals since we met at school in Muirhead as five years old in primary one. We've held a lot of the same crazy ambitions and dreams and made quite a few of them happen. He's been there for me more times than I can remember. From my alcohol problems and quitting the booze (11 years ago on 5th of April) right through to today. You couldn't ask for a better friend or bandmate. Tom Joyes, manager and 35 years mainstay at The Barras Market and Barrowland Ballroom has been like a mentor to me as I've been serving my apprenticeship in music. I couldn't ask for anyone better to learn from with everything Tom has experienced and seen in The Game. He believes in me and gives me a lot of confidence in placing his trust in me to bring me into the Glasgow institution that is Margaret McIver Ltd. Tom and Billy Coyle were integral in our band being inducted into the Barrowland Ballroom Hall of Fame. Special mention for Scottish acting Legend Gavin Mitchell who has been a huge support for The Dijon 5 over the years. What a beautiful, inspiring and hugely talented man. For someone who has grown up with and loves Still Game it's been beautifully surreal to see the love Gav has for our band and even starring in a few of our music videos. We both have a shared love for the Starman, David Bowie, and that's led to some amazing experiences meeting Bowie's old band members and many a chat about him. An artist who inspires me so much to, as the words of our song go, "be yourself, cos that's who you are." Further afield, David Pichilingi at Liverpool Sound City has played a pivotal role in our career for getting us gigging outside of Scotland and playing on the same line up there as heroes The Flaming Lips, Sean Lennon's band The Ghost of a Saber Tooth Tiger (being a massive Beatles fan and having the opportunity to chat with Sean about his Dad), our bezzie mates from The People's Republic of Merseyside, She Drew The Gun, and then, thanks to Kong Dalse Yoon-Young, inviting us to go to Korea (twice) to play Zandari Festa and the inaugural DMZ Peace Train Music Festival at the DeMilitarised Zone between the North and the South. Which for someone who is an activist, peacenik and political lobbyist for Scottish Campaign for Nuclear Disarmament was an incredible experience to play an active role in increasing the peace in one of the world's longest-running areas of conflict and war. Thank you very much to all of the aforementioned. Shout out also to Frank Hedges at legendary Liverpool independent live music venue The Lomax for giving us our first gigs in Liverpool and for his continuing support. Rock on brother…
5. Where do you see you/your organisation in the next five years?
I'll happily still be working in The Barras Market
and Barrowland Ballroom and playing in and co-managing Colonel Mustard &
The Dijon 5 along with using my 23 company to help our creative community to
thrive. I hope we have an amazing 2021 and an explosion of art, community,
creativity, ideas and music to recognise the centenary of The Barras Market and
that the Barrowland Ballroom continues to welcome musicians and music lovers to
The Greatest Venue for Live Music in the World!
6. What's the best thing about working in music in Scotland? 
I have said for a long time that I believe Glasgow
has the greatest live music scene and music community in the world! Being a
part of and playing an active role in that is the best thing for me.
7. What do you feel Scotland's music industry needs to excel? 
We need an easily accessible (no barriers to anyone) and robust framework of organisations that exist to educate, help and support (financially, mentally and physically) our creative community to turn their ideas into reality. I believe that whenever you create the right environment that provides all of the aforementioned then you create the conditions for people to achieve their highest potential and thrive. We have a lot of that in place already but we can always do with more! The SMIA have been amazing in the work they do and long may that continue. I also believe Scottish Independence would be in the best interests of Scotland's music industry to untether us from the crazy and backwards politics of Westminster. Brexit, as only one example, is possibly the worst thing EVER you could think to negatively affect and impact Scottish musicians ability to play abroad and tour and also the negative impacts it will have in welcoming musicians from our countries to our beautiful wee country. We should be outward-looking and welcoming. NOT pulling up the Brexit "drawbridge" and isolating ourselves culturally and in every other way. Vive la Revolution!  Peace, love and music.