Cast Iron Value: How The Ironworks Enriches All Of Our Lives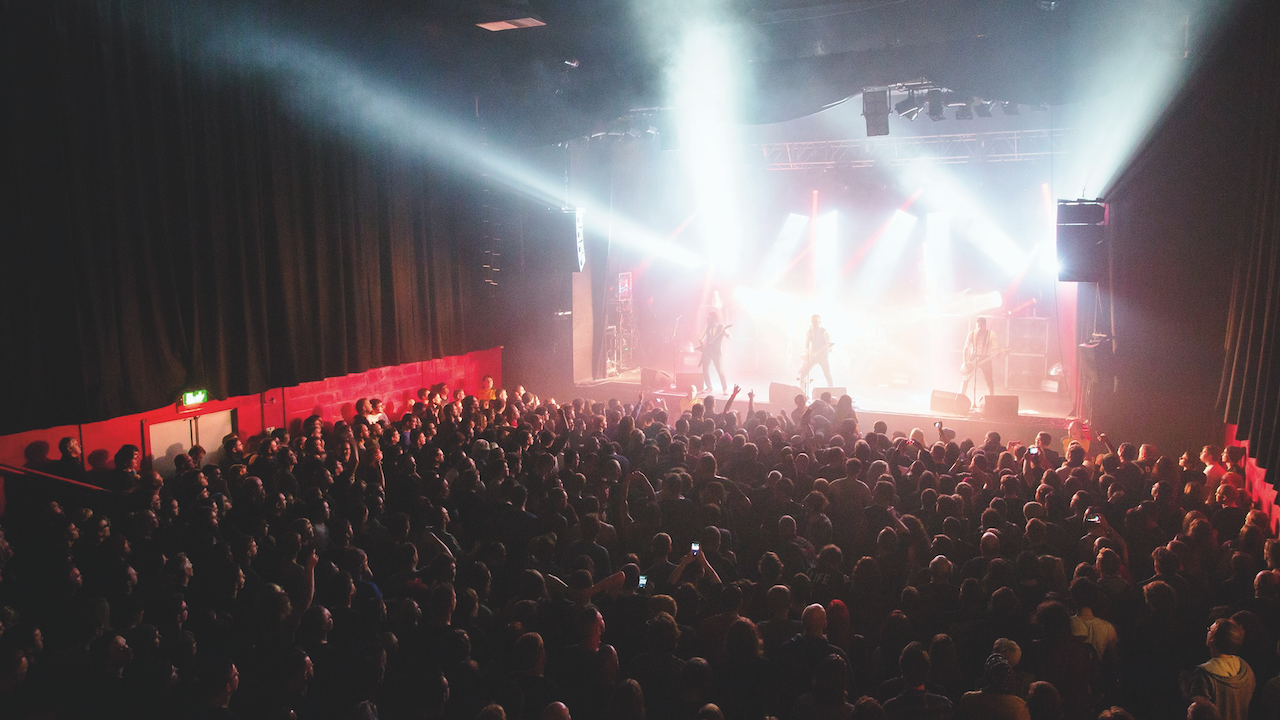 Facing threat of closure, Dougal Perman considers the value of one of Scotland's most significant venues.
Where did Johnny Rotten have one of his best gigs ever? Which venue was pivotal in Rachel Sermani's career? Where did Gerry Cinnamon nearly take the roof down? What's the best place to play in the Highlands? Which Inverness venue has a 1,000 capacity? Which resilient music business has proven innovative and pioneering for the past 11 years? And which venue is under threat of closure and demolition to make way for a hotel?
The answer to these rhetorical questions is, of course, the Ironworks in Inverness. I have long been a fan of Ironworks. I've been to some great gigs and parties there, I've spoken at events and I've long been impressed by the high quality technical infrastructure and the exemplary way the management team run the venue. Ironworks is a keystone venue in the Scottish live music touring circuit. And its manager, Caroline Campbell, is a linchpin.
By keystone venue I mean one, in a locality or touring circuit, that holds the others up. For many artists; without the Ironworks, touring in Scotland doesn't make sense. The venue is big enough to take large touring acts (forthcoming performances include Wet Wet Wet, Scouting For Girls, Idlewild, Niteworks, Skerryvore, Primal Scream, Tide Lines and Elephant Sessions) who wouldn't otherwise have a place to play in Inverness. Let's take Scouting For Girls as an example — not as a band I have any personal interest in, but they are a successful pop band from England with a widespread fanbase. Their November 2019 tour takes in Galashiels on the 6th, Ironworks on the 7th, The Loft in Forres on the 8th, The Sound Archive in Kirkwall on the 10th before heading to The Lemon Tree in Aberdeen then Perth, Dunkeld, Stirling then down to Oxford. There is no way that playing the likes of Forres and Dunkeld would be feasible without Ironworks in the mix. Without it they might play Aberdeen, and possibly Kirkwall, but many of the other locations wouldn't make sense. This is true for many touring artists.
By linchpin I mean someone who goes the extra mile all the time because it's the way she is and the right thing to do. Linchpin behaviour in the context of Ironworks ensures that everyone involved has a great time. Visiting artists enjoy a great show, are very well looked after and take pride in signing the wall backstage. (John Lydon of Public Image Ltd's thank you message to Ironworks is still written on the mirror in the main dressing room: "Inverness ain't no mess. True People!") Audience members, staff and the local community enjoys the positivity that exudes from Ironworks too.
All of this generates income. And employs people. And all of that money is spent locally, benefitting the local economy directly. And that's just the money flowing directly through the venue.
All of this contributes to the value of Ironworks. Some of that value is economic and measurable. And that is significant. The venue can hold up to 1,000 people, but — through an innovative process the team there undertook a couple of years ago — can be scaled down to 200–300 without compromising on the quality of the experience; for artist or audience. It's open several nights a week, every week, earning revenue from ticket, bar and merchandise sales. The venue also hosts a portfolio of interesting additional events including dinners, workshops and meet-ups. All of this generates income. And employs people. And all of that money is spent locally, benefitting the local economy directly. And that's just the money flowing directly through the venue.
The local economy benefits from the auxiliary spending of the audiences, and touring artists, who come to the venue — many from out of town — and then spend money in local bars, restaurants, shops and hotels. And that's just in Inverness. Take into account gigs in places that wouldn't otherwise be able to attract larger touring artists, such as The Loft in Forres, and then that venue is generating income and its audience and performers are spending money on and off site because of what we can call the "Ironworks effect". I've done a lot of work in the value of music tourism. There is a robust and straightforward methodology we could apply to Ironworks to work out the economic impact it has, not just in Inverness but in the surrounding area.
When calculating value, I think it's vital to consider a triple bottom line: economy, society and culture. And each element is inextricably linked. Ironworks benefits Inverness socially because it employs people locally and through some of its events provides an occasional family-friendly social space. As I mentioned, it is the venue for a multitude of talks, meet-ups, workshops and so on (many of which I have participated in). There could be other locations for some of these events, but for many of them Ironworks is just the right fit. Because of its reputation and status; it makes sense to do it there. And if none of these things happened, there would be a discernible loss of income for the surrounding area.
Culture is the way we live in the world. And a thriving music venue and nightclub is an essential element to student life. Inverness College, part of the University of the Highlands and Islands, has an impressive campus and offers courses to students from around the world. Students benefit the city financially and through the influx of new talent entering the jobs market. University places are highly competitive, though, and the culture of its place — and especially its nightlife — are a major factor when deciding where to study. It's not just students though. Ironworks exists in a symbiotic network of cultural, entertainment establishments. It provides an edgy complement to the wonderful Eden Court; which is a fantastic multi-disciplinary arts centre. Eden Court arts centre is publicly funded. The Ironworks music venue is an independent business. Ironworks benefits local bars and small venues (such as the Market Bar and Hootananny) by increasing footfall to the local area. But it also adds to the culture of the city centre. Everything that happens in and around Ironworks adds to the vibe of the city.
In these ways, and many others besides, the Ironworks enriches all of our lives. Without it the main city in the Scottish Highlands would have so much less. And we would all be poorer for it.
When you take all of this into account, I find it hard to believe that even a large mid-market hotel would have an equal, or greater, economic impact that Ironworks. I would like to see the due diligence that has informed any decision to replace Ironworks with a hotel, including a comparative study of triple bottom line benefits to Inverness and the surrounding area of Ironworks versus a new hotel. Apparently other locations are being considered, for Ironworks. That could provide a glimmer of hope in the shadows of this story. But would it make any economic sense to move the venue to a new location, rather than using that location as the site for a new hotel? And who would pay for it?
When the O2 ABC in Glasgow was catastrophically damaged by fire in 2018, I said at the time that losing a landmark hurts a city's image, losing a business hurts its economy and losing a music venue hurts its soul. That is all true of Ironworks. But I don't want to pray for the Ironworks's soul. I want to help find a way to keep this vitally important independent grassroots music venue going because the Ironworks is the lifeblood of the local music scene and an essential part of Highland culture.
How do you feel about this situation? Would you like to support the Ironworks? Post a comment below or get in touch with SMIA and let us know what you think.